Are all dogs born with long tails?
Dogs, those furry bundles of joy that brighten our lives with their wagging tails and unconditional love. But have you ever wondered if all dogs are born with long tails? Well, get ready to embark on a journey through the fascinating world of dog genetics and evolution.
From the majestic Siberian Husky flaunting its fluffy plume to the adorable Pug rocking its curly tail, it's hard not to notice the incredible diversity in tail lengths among different dog breeds. So, can we really say for sure if every single pup is born with a long tail?
Join me as we delve into the enchanting realm of dog tails, peeling back layers of genetic variation and breed heritage. We'll uncover remarkable adaptations that make each canine's tail as unique as its personality. Get ready to be blown away by mind-boggling facts and unexpected details as we strive to answer this captivating question: Are all dogs born with long tails?
So, grab your favorite four-legged friend, settle in, and let's embark on this tail-wagging adventure together.
Variations in Tail Length by Breed
Dogs, those delightful creatures that bring joy to our lives, possess a mesmerizing array of tail lengths. From the elegant and flowing tails of certain breeds to the short and charming tails of others, these variations in tail length by breed add an enchanting dimension to the canine world. In this article, we will embark on a journey through the captivating realm of tail length diversity, shedding light on its implications for dog owners.
Long Tails – A Symphony of Elegance and Beauty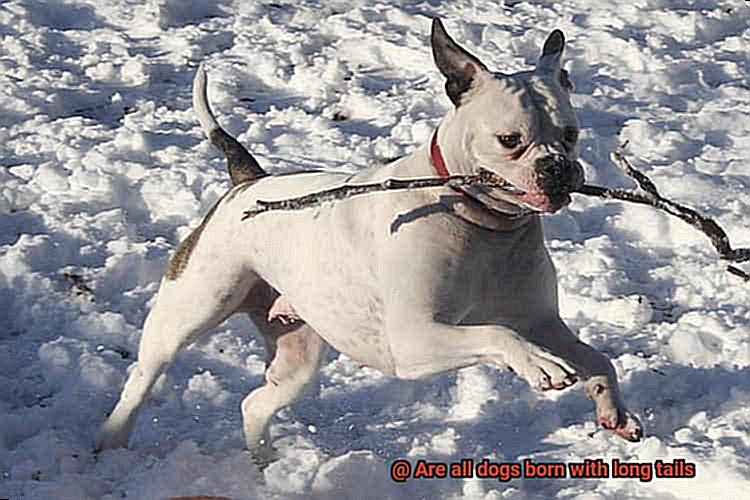 Firstly, let us marvel at the Afghan Hound, a breed renowned for its long and gracefully curved tail. With their regal appearance and luxurious, silky coats, these dogs enchant us with their flowing tails. Their every movement exudes an air of sophistication, elevating the canine experience to one of pure elegance.
Short Tails – A Burst of Charm and Personality
On the other end of the spectrum, we encounter breeds like the Pembroke Welsh Corgi, whose tails are naturally short or even nonexistent due to a genetic twist. But fear not. These dogs compensate for their lack of a long tail with an abundance of charm and personality. Their short tails do not hinder their ability to communicate through body language or wag with unbridled joy.
Bobbed Tails – A Genetic Surprise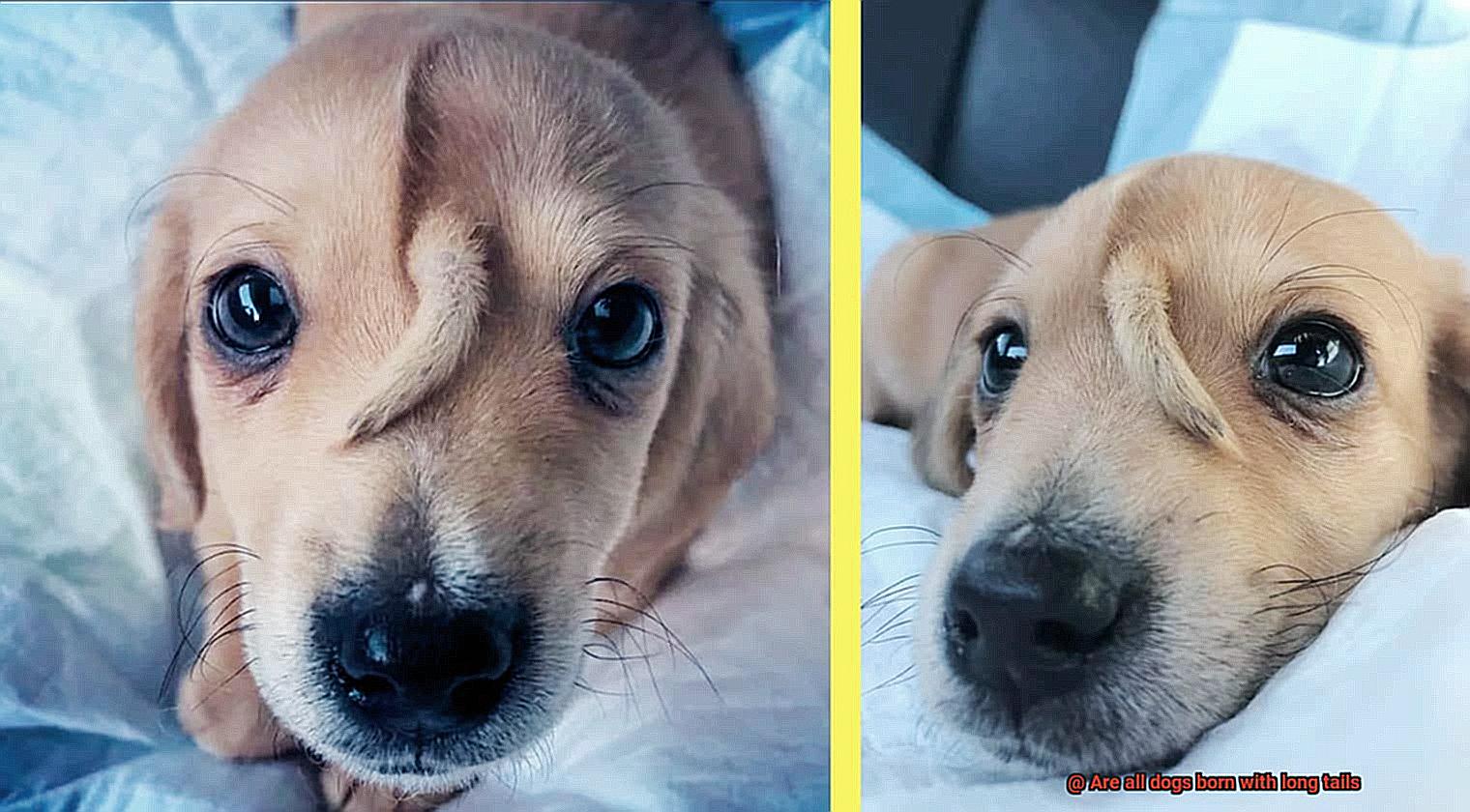 Now, prepare to be astonished by breeds like the Australian Shepherd, which possess either a long tail or a naturally bobbed tail. This genetic phenomenon results in some individuals being born with full-length tails while others sport uniquely shorter ones. The bobbed tails of these dogs bestow upon them an undeniable allure that sets them apart from their counterparts.
Bulldogs – The Tail Conundrum
Ah, the Bulldogs. These endearing creatures present an intriguing case when it comes to tail length. Typically, Bulldogs flaunt naturally short, screw-like tails. However, genetic variations or surgical alterations may gift some Bulldogs with longer tails. For owners of French Bulldogs, a specific Bulldog breed, it is essential to acknowledge the potential variations in tail length within their beloved companions.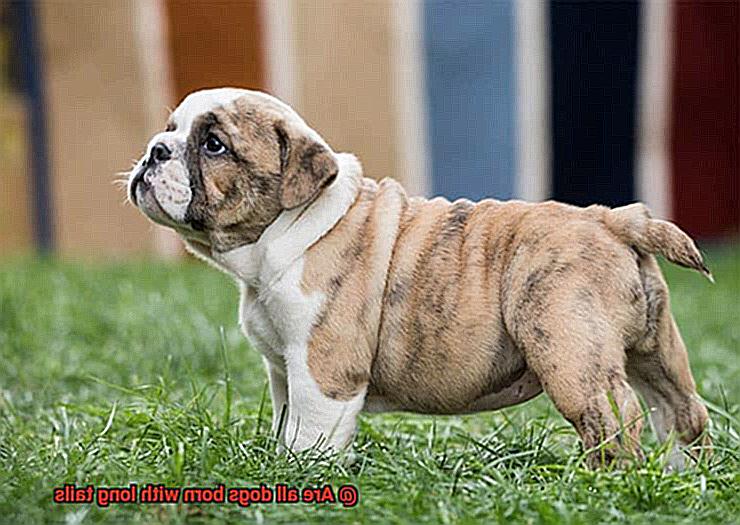 Tail Length and Canine Well-being
In our quest for knowledge, we must remember that tail length does not determine a dog's health or happiness. Whether a dog possesses a long, short, or non-existent tail, their overall well-being remains paramount. Breeders and veterinarians play a vital role in ensuring the welfare of dogs with shorter or altered tails by being well-informed about any potential health concerns linked to specific tail lengths and educating owners accordingly.
The Practice of Tail Docking
Here, we will delve into the intricate world of tail docking in relation to French Bulldogs and examine the ethical considerations that accompany this contentious procedure.
Unraveling the Mystery of Tail Docking: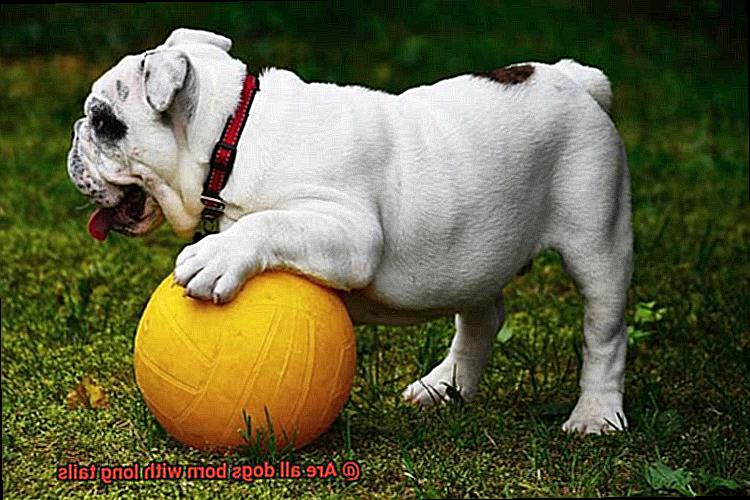 At its core, tail docking involves the removal of a portion of a dog's tail for various reasons, ranging from adhering to breed standards to fulfilling working purposes or even fulfilling cosmetic preferences.
This delicate procedure is typically performed on tender newborn puppies, merely days old, utilizing surgical scissors or a specialized clamp.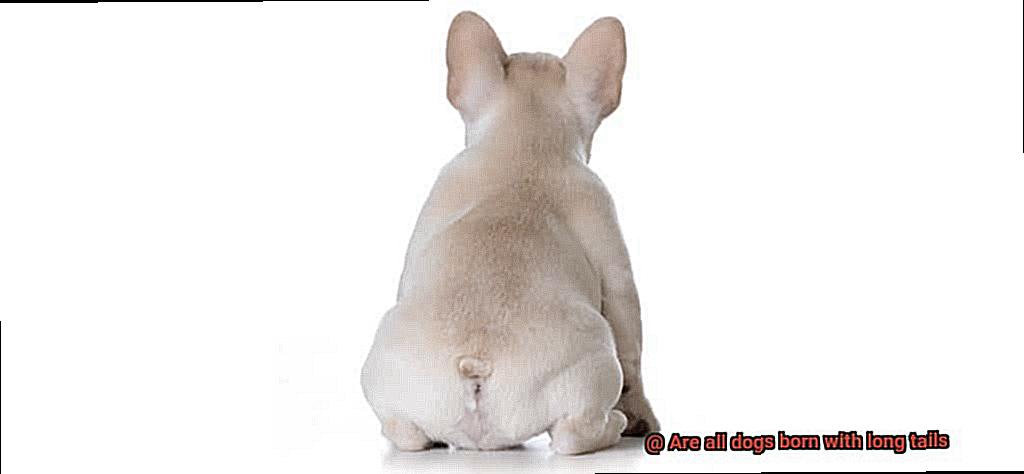 Peering into the Depths of History:
Delving into the annals of the past, we discover that tail docking was once believed to be a preventative measure against health issues such as infections or injuries.
However, scientific evidence supporting these claims is sparse, casting doubt upon the necessity of this age-old practice.
Breed-Specific Tail Docking:
Tail docking is more prevalent in certain breeds, including our beloved French Bulldogs.
Breed standards often dictate specific tail length or shape, exerting influence upon the decision to dock a French Bulldog's tail.
Ethical Crossroads:
Critics assert that tail docking is an unwarranted and excruciating procedure that can inflict physical and psychological harm upon dogs.
They advocate for preserving a dog's natural tail unless there exists a valid medical reason warranting its removal.
A World of Regulations:
Around the globe, countries grapple with the issue of tail docking, leading to divergent legal perspectives.
While some nations have implemented bans on tail docking due to concerns of animal cruelty, others permit the practice but regulate it strictly, allowing only licensed veterinarians to perform the procedure under specific circumstances.
Breeds with Naturally Short Tails
These breeds have been selectively bred over time for various reasons, resulting in their unique and adorable tail characteristics. Let's dive into the world of breeds with naturally short tails and discover the fascinating stories behind them.
First on our list is the French Bulldog, a breed that originated in France. These bat-eared cuties were initially bred for ratting and bull-baiting. The shorter tail of the French Bulldog is a result of selective breeding for a more compact body and better balance. So, while their tail may be short, it serves a functional purpose.
Next up is the Pembroke Welsh Corgi, those lovable herding dogs from Wales. These pups sport a naturally short tail often referred to as a "bobtail." This tail adaptation was practical as it helped them avoid getting stepped on by the livestock they were herding. Talk about intelligent design.
Moving on, we have the Boston Terrier. Originating in the United States, these dogs were initially bred for pit fighting but have since become cherished companions. The Boston Terrier's short tail is a distinctive feature that has been passed down through generations, adding to their unique charm.
Let's not forget about the Australian Shepherd, despite its misleading name. These hardworking dogs were developed in the United States as herding dogs. Their short tail aids them in navigating rough terrains while herding, preventing any injuries along the way.
The Rottweiler also makes our list with its powerful build and naturally short tail. Originally bred in Germany as herding and guard dogs, their shorter tail allows for agility and quick movements in performing their duties. Today, Rottweilers are commonly found serving as police dogs and search and rescue dogs.
Additional breeds with naturally short tails include the Jack Russell Terrier, English Bulldog, and the Boxer. Each of these breeds has its own unique history and reasons for their naturally short tails.
It's essential to note that while these breeds are born with naturally short tails, there may be variations within the breed. Some individuals may have slightly longer or shorter tails than others. However, the breed standard dictates a naturally short tail overall.
It's also worth mentioning that some dogs of any breed may have their tails docked for various reasons. Tail docking is a controversial surgical procedure where a portion of the tail is removed. However, this practice is illegal in some countries and highly debated due to ethical concerns. If you're considering getting a dog with a naturally short tail, make sure to choose a breeder who adheres to ethical practices and does not engage in tail docking.
Breeds with Naturally Curled or Sickle-Shaped Tails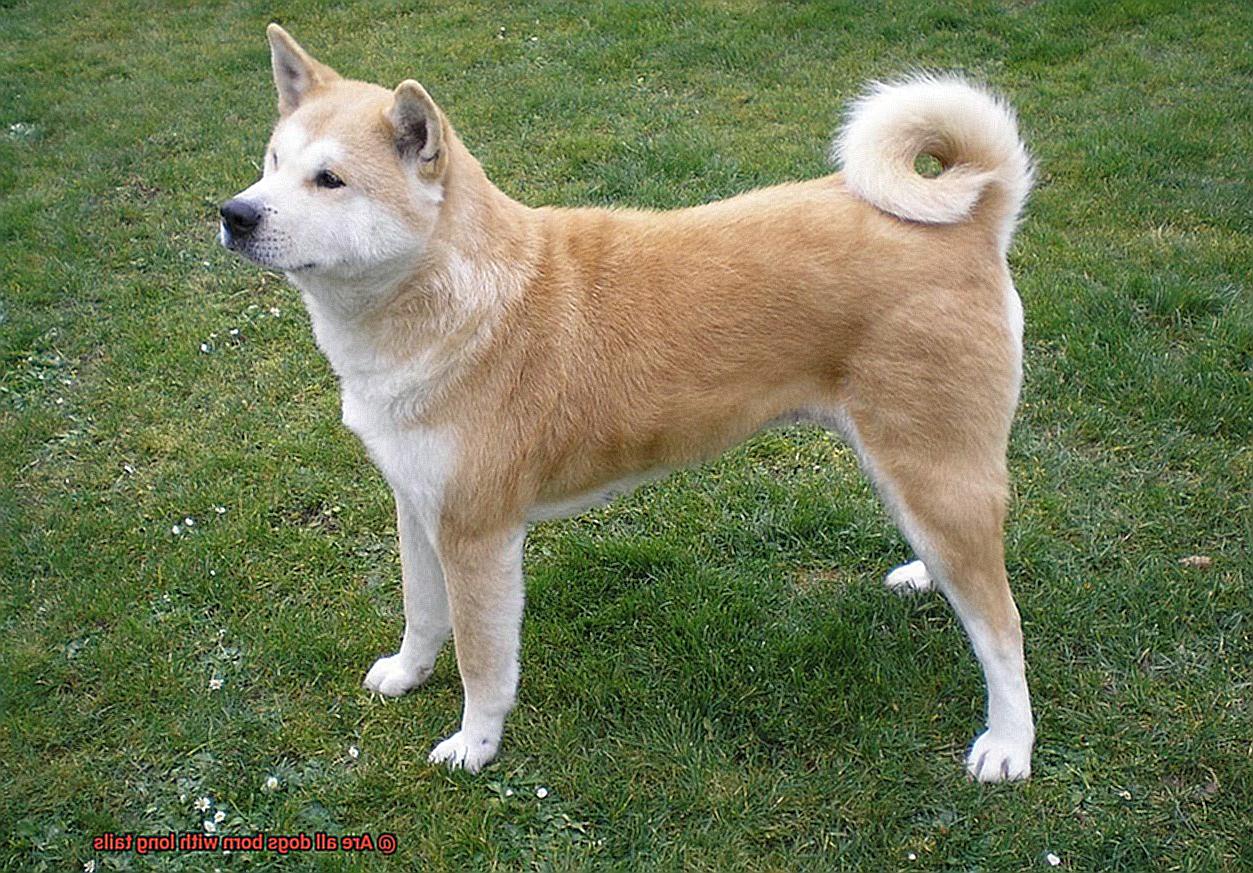 These unique tail shapes not only add to the aesthetic appeal of these breeds but also serve various purposes. In this comprehensive exploration, we will delve into the genetics behind these captivating tails and provide insights into the care requirements associated with breeds like French Bulldogs, Pugs, Akita Inus, Basenjis, Shiba Inus, Australian Shepherds, and Chow Chows.
Genetics of Naturally Curled Tails:
While the precise genetic mechanisms behind these intriguing tail shapes are still a mystery, it is widely believed that specific genes play a significant role in their development. Through generations of selective breeding, these traits have been established and maintained in certain breeds.
Breeds with Naturally Curled or Sickle-Shaped Tails:
French Bulldogs: This charming breed boasts a naturally curled tail that often resembles a corkscrew shape. The delightful curvature of their tails is not only visually appealing but also serves as a defining characteristic of the breed.
Pugs: Pugs have tight, spiral-shaped tails that elegantly curl over their backs. This distinctive feature adds an extra dose of cuteness and endearment to their already adorable appearance.
Akita Inus: Akita Inus have thick, double-coated tails that curl in a loose, circular shape. This unique tail structure serves as protection against extreme weather conditions, ensuring their agility and resilience in harsh environments.
Basenjis: With tightly curled tails snugly resting against their hindquarters, Basenjis exhibit an elegant tail shape that perfectly complements their compact body structure. This unique attribute enhances their overall grace and poise.
Shiba Inus: Known for their fox-like appearance, Shiba Inus possess naturally curled tails that resemble a sickle shape. These playful tails add an extra touch of charm to their already captivating personalities.
Australian Shepherds: Renowned for their striking coat patterns and mesmerizing eye colors, Australian Shepherds also sport naturally curly tails. These tails curl upwards and can be seen happily wagging when they are excited or engaged in physical activities.
Chow Chows: With their regal and majestic demeanor, Chow Chows showcase thick, plush coats and a unique blue-black tongue. They also possess a curly tail that gracefully curls over their back, adding to their captivating appearance.
Care Requirements for Dogs with Curled Tails: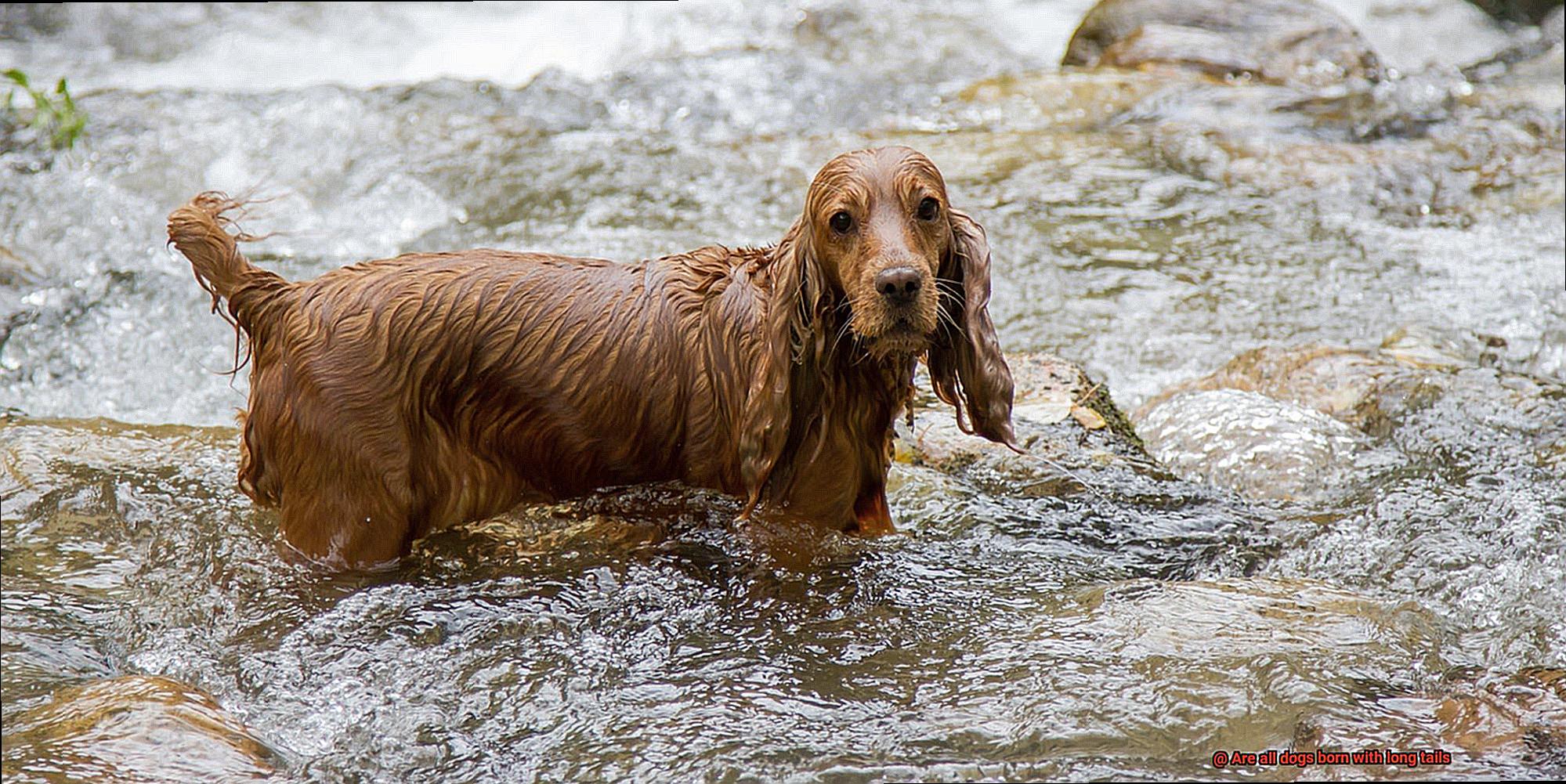 Grooming: Breeds with curly tails may require extra attention to grooming. Regular brushing helps prevent matting and ensures the tail stays clean and healthy.
Hygiene: The tightly curled hairs of these breeds can easily trap dirt and debris. Regularly checking and cleaning the tail area is essential to maintain good hygiene.
Breeds with Long and Slender Tails
French Bulldogs are undoubtedly adorable with their unique bat-like ears and expressive faces. But have you ever wondered about their tail? While French Bulldogs are known for their short and curly tails, today we're going to dive into the world of breeds with long and slender tails. Get ready for a tail-wagging adventure as we explore the captivating genetics, care requirements, and the breeds that rock this elegant trait.
Breed Spotlight:
Afghan Hound: Picture a regal creature with a flowing coat and a slender, elongated tail held high in an upward curve. The Afghan Hound is the epitome of gracefulness, and its long and slender tail only adds to its majestic appearance.
Saluki: Known as the Persian Greyhound, the Saluki is a breed that combines elegance and agility. Its long, tapering tail enhances its aerodynamic silhouette, rising in a graceful curve when it's in motion.
Borzoi: As the Russian Wolfhound, the Borzoi possesses a lean and graceful body structure complemented by its long, arched tail. This breed's tail not only adds to its overall elegance but also aids in maintaining balance during high-speed sprints.

Greyhound: These lightning-fast racers are famous for their incredible speed on the track. Their long and slender tails serve a purpose beyond aesthetics; they help maintain stability during high-speed pursuits, rising in a gentle curve when they're excited or in motion.
Whippet: Considered smaller versions of Greyhounds, Whippets possess proportionally elongated tails that taper to a fine point. Their tails aid in balance and contribute to their athletic and agile nature.
Basenji: This unique African breed known for its yodel-like vocalization has a curled tail that sits tightly against its body. While not as straight as other breeds, the Basenji's tail still exhibits a slender and elongated structure.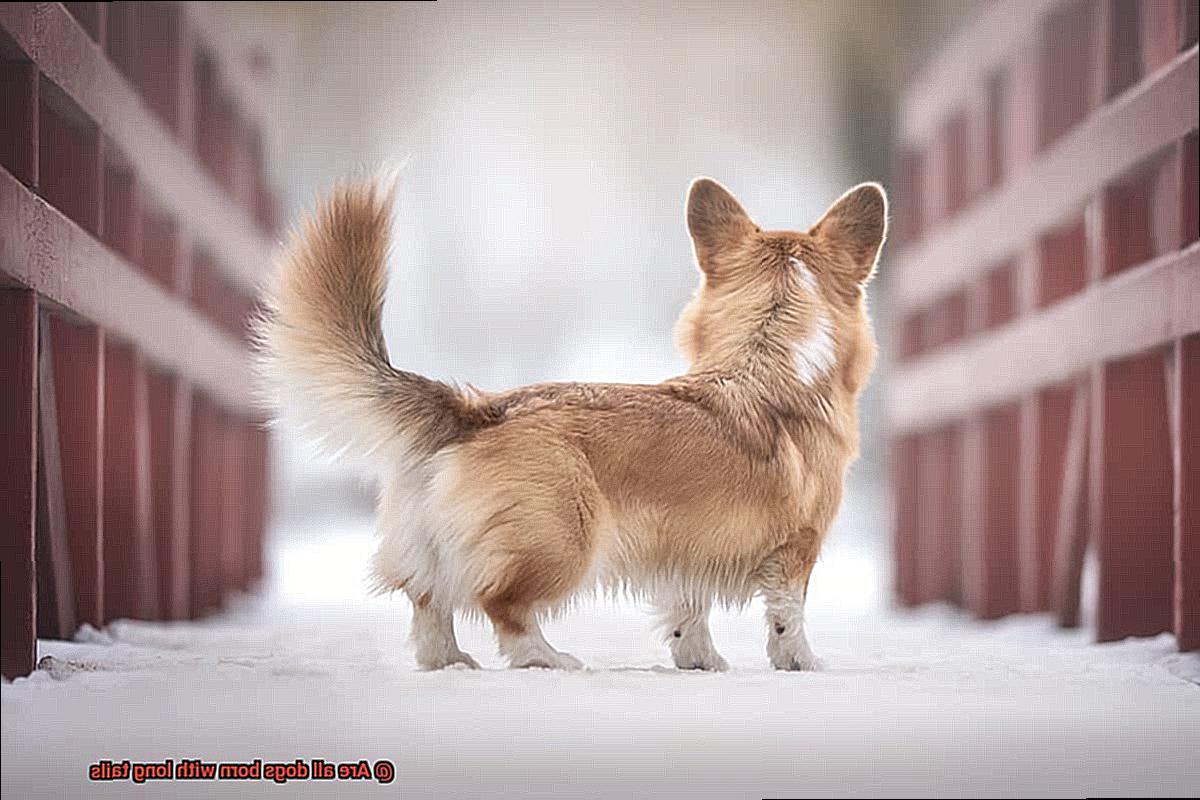 Variations Within a Breed
From genetic influences to breeding practices and cultural preferences, we uncover the secrets behind the variations within this beloved breed.
Genetic Wonders:
Within the enchanting realm of French Bulldogs, genetic factors play a fascinating role in tail length variations. While the breed standard dictates a short, screw or corkscrew tail, some Frenchies defy expectations with longer or shorter tails. These genetic marvels add an extraordinary twist to the tapestry of French Bulldog diversity.
Selective Breeding Artistry:
The artistry of selective breeding significantly shapes the variations in tail length within the breed. Meticulous breeders carefully choose their mating pairs based on desired traits, including tail length. By selectively pairing dogs with shorter or longer tails, these skilled artisans influence the tail length of their offspring, creating a symphony of variety within the breed.
Cultural Preferences and Breed Standards:
Tail length variations are also influenced by cultural preferences and breed standards established by kennel clubs and breed organizations. In certain regions, traditional practices like docking – the removal of part of a dog's tail – are still prevalent for specific breeds, including French Bulldogs. These regional nuances give rise to captivating variations in tail length that reflect cultural diversity.
Health Considerations: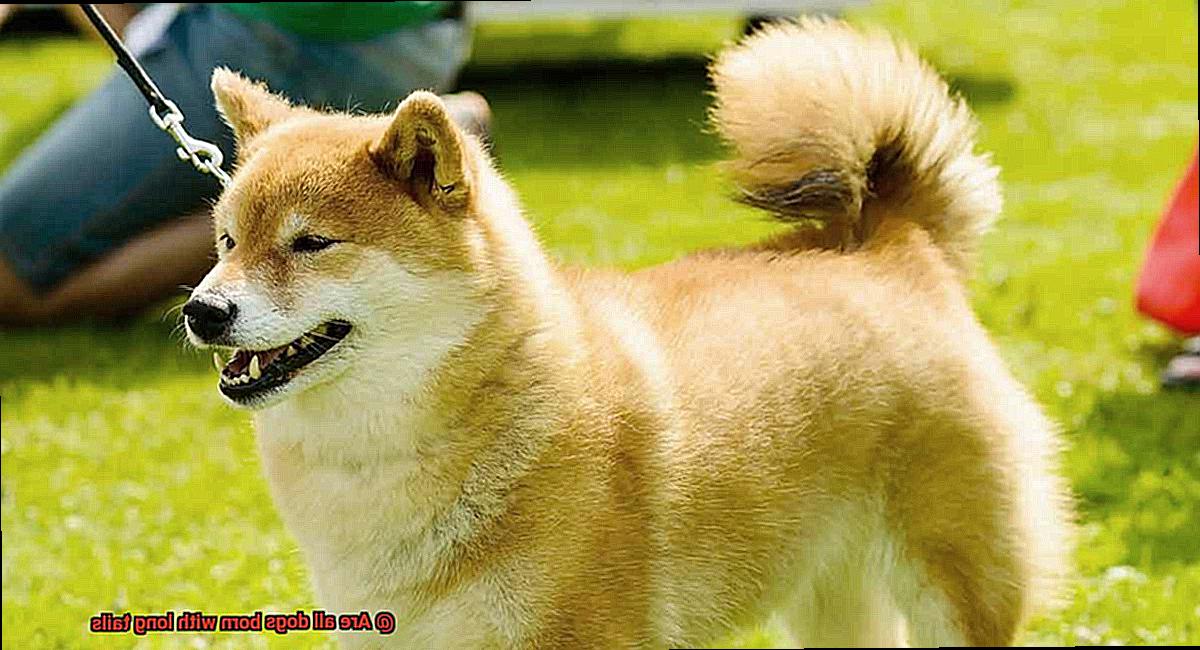 Tail length in French Bulldogs carries health implications worthy of exploration. Longer tails may be susceptible to injuries or conditions such as "happy tail syndrome," where exuberant wagging leads to damage or infection. Conversely, shorter tails or even no tails at all – as seen in some Frenchies – present distinct health considerations tied to their unique anatomy. Understanding these implications fosters responsible ownership and care.
Conclusion:
French Bulldogs captivate our hearts with their diversity of tail lengths, each adding charm and individuality to these delightful companions. By unraveling the factors behind these variations – from genetics and selective breeding to cultural influences and health considerations – we gain a profound appreciation for the tapestry of uniqueness within the breed. When choosing a canine companion, remember that tail length is but one thread in the intricate fabric of responsible breeding practices and overall breed characteristics that contribute to a joyful and healthy partnership.
The Role of Genetics in Tail Length
Among these features, their short little tails stand out. But have you ever pondered why some Frenchies boast longer tails than others? Prepare for a journey into the enthralling realm of genetics as we unveil the enigma behind tail length in French Bulldogs.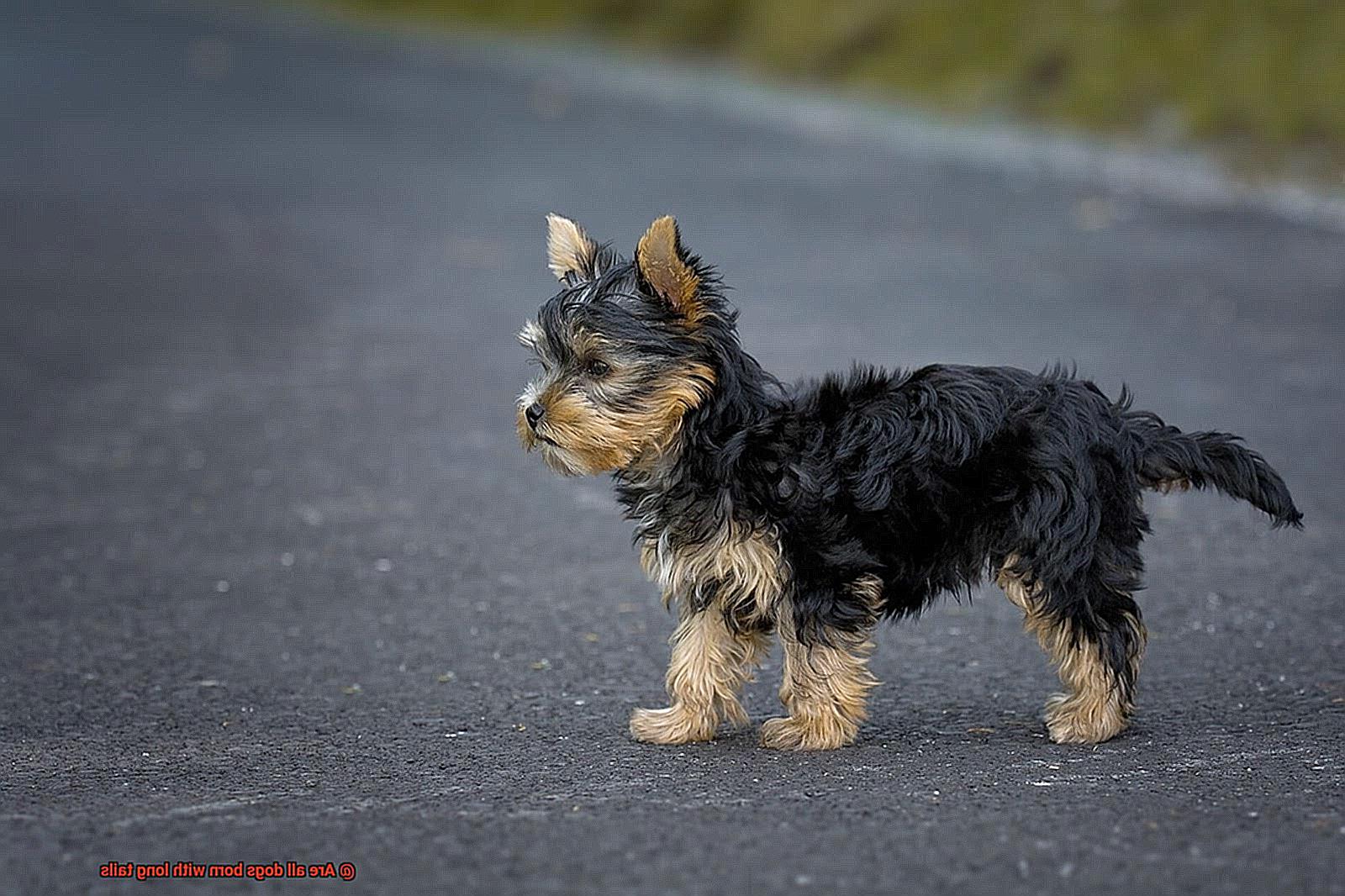 The T Gene: The Mastermind of Tail Length
At the core of tail length lies a single gene known as the T gene. This extraordinary gene exists in two forms—a lengthy tail variant (T) and a shorter tail variant (t). A Frenchie with two copies of the long tail form (TT) will possess a lengthier tail, while those with two copies of the short tail form (tt) will showcase a shorter tail.
Genetic Mutations: The Marvel of Short Tails
Unlike certain breeds, French Bulldogs naturally possess short tails due to specific genetic mutations. These mutations can alter or entirely eradicate the gene responsible for tail length, resulting in naturally short or absent tails. It's almost as if nature herself bestowed upon Frenchies their signature appearance.
Modifier Genes: The Sorcerers of Tail Length
But wait, there's more. Modifier genes exert their influence on the expression of the T gene, adding an extra layer of complexity. These genes possess the power to enhance or suppress the impact of the T gene, thereby introducing variations in tail length even within the Frenchie population. It's akin to having magical genes that play enchanting tricks on tail length.
Environmental Factors: Unforeseen Tail Length Mishaps
Occasionally, environmental factors can also influence tail length. Medical conditions or injuries may necessitate partial or complete tail amputation, resulting in a shorter tail length than expected based solely on genetics. Thus, it becomes evident that it's not solely about genes; life's unpredictable occurrences also come into play.
Selective Breeding: Sculpting Tail Length
Through their artistic prowess and expertise, breeders can selectively mate French Bulldogs to achieve desired tail lengths. By intentionally pairing dogs with long or short tails, they can shape the genetics of tail length within the breed. It's a harmonious dance between science and personal preference.
Controversy Surrounding Tail Docking
Tail docking in dogs, particularly French Bulldogs, has become a hotly debated topic among animal welfare organizations and veterinarians. This age-old practice, which involves removing a portion of a dog's tail, has long been considered a tradition in certain breeds like Boxers, Dobermans, and Rottweilers. However, critics argue that tail docking serves no functional purpose and is merely a form of cosmetic surgery that can inflict physical and psychological harm on the dog.
One of the main arguments against tail docking is that it interferes with the dog's natural behaviors. Dogs use their tails for various purposes, including balance, communication, and expressing emotions. Removing their tails can disrupt these natural behaviors and limit their ability to effectively interact with other dogs and humans. It's like trying to communicate without facial expressions or body language – a vital part of any social interaction.
Another concern is the pain inflicted on the puppies during the procedure. Often performed without anesthesia or proper pain management, tail docking can cause unnecessary suffering for these innocent beings. Research has even shown that dogs with docked tails may be more prone to certain health issues, such as incontinence and spinal problems.
The controversy surrounding tail docking has led many countries and states to implement legislation to ban or restrict the practice. They consider it an act of cruelty and unnecessary mutilation. However, there are still regions where tail docking remains legal and widely practiced, often due to breed standards or historical traditions.
Conclusion
In conclusion, it is not true that all dogs are born with long tails. While some breeds, such as the Labrador Retriever and Golden Retriever, are commonly born with long, wagging tails, there are many other breeds that have naturally short or docked tails. From the feisty little Corgis to the elegant Doberman Pinschers, these dogs showcase a variety of tail lengths.
The length of a dog's tail is determined by genetics and breed standards. Some breeds have been selectively bred for specific traits, including tail length. For example, certain hunting breeds like the Brittany Spaniel have shorter tails to prevent injury while working in dense vegetation.
Furthermore, some owners choose to dock their dog's tail for various reasons such as tradition or practicality. Docking involves surgically removing a portion of the tail when the puppy is just a few days old. This practice is controversial and banned in many countries due to concerns about animal welfare.
Regardless of whether a dog has a long or short tail, it is important to remember that their wagging appendage serves multiple purposes. It helps them communicate their emotions and intentions to other dogs and humans. A wagging tail can express joy, excitement, fear, or even aggression.
So, next time you encounter a furry friend with a short or docked tail, don't assume they were born that way. Dogs come in all shapes and sizes, including variations in their tails. Embrace the diversity and appreciate each dog for who they are – tail length notwithstanding.