What Is America'S Most Popular Dog Breed?
Are you ready to discover America's most popular dog breed? These four-legged companions have been a staple in American households for ages, bringing joy, love, and plenty of slobbery kisses.
But with so many breeds out there, it can be tough to determine which one takes the top spot. Well, we've got you covered.
Get ready to meet the reigning champ that has captured hearts across the country. From its origins and unique traits to its immense popularity, we'll delve into all things related to this beloved breed.
So, grab your pup and let's embark on an adventure to uncover America's most popular dog breed.
What Is America'S Most Popular Dog Breed?
As a French Bulldog owner, you may be wondering why the Labrador Retriever has held the top spot as America's most popular dog breed for 29 consecutive years. As an expert on this topic, I am here to break down the key factors that contribute to their popularity.
Friendly and Versatile Nature
One of the main reasons why the Labrador Retriever is so beloved is because of their friendly and versatile nature. They are known for being great family dogs, as they are gentle, patient, and affectionate with children. They also make excellent companions for individuals or couples, as they are loyal and loving. Additionally, their intelligence and trainability make them suitable for various roles such as therapy dogs, search and rescue dogs, and even guide dogs for the blind.
Active and Energetic
Labrador Retrievers are known for their high energy levels and love for physical activity. This makes them perfect for families or individuals who enjoy an active lifestyle. They are always up for a game of fetch or a long walk in the park. Their love for exercise also makes them great outdoor companions for hiking or camping trips.
Adaptable to Different Environments
Another factor that contributes to the Labrador Retriever's popularity is their adaptability to different environments. They can thrive in both rural and urban settings, making them a suitable choice for a wide range of families and individuals. As long as they receive enough exercise and attention, they can adjust to any living situation.
Easy Grooming Needs
Labrador Retrievers have short, dense coats that are easy to maintain. They only require occasional brushing to remove loose fur and regular nail trimming. This low-maintenance grooming routine is appealing to many dog owners who prefer not to spend hours grooming their pets.
Media and Pop Culture Influence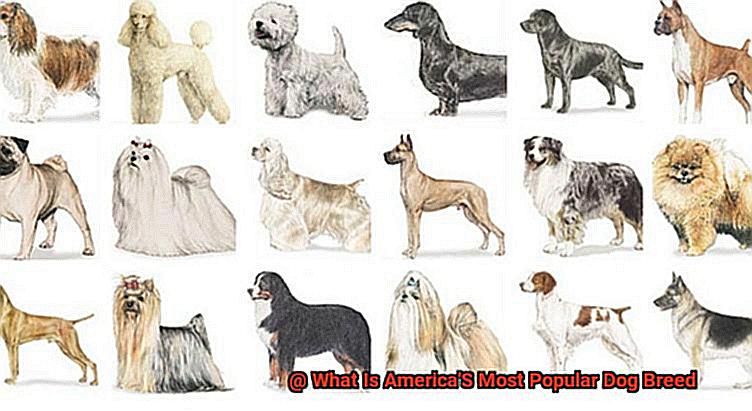 It is no secret that media and pop culture play a role in shaping our perceptions and preferences. The Labrador Retriever has been featured in many movies and TV shows, such as "Marley and Me" and "Full House," which has undoubtedly contributed to their popularity. Additionally, many celebrities, including Jennifer Aniston and George Clooney, have also been seen with their beloved Labs, further solidifying their status as a desirable breed.
Understanding the Methodology Behind the AKC's Popularity List
As a proud owner of a French Bulldog, you may have wondered why this lovable breed ranks so high on the American Kennel Club's (AKC) annual list of most popular dog breeds. You may have also noticed that the list changes from year to year, with some breeds rising in popularity and others falling. So, how exactly does the AKC determine which breeds make it onto this prestigious list? Let's find out.
The American Kennel Club has been tracking dog breed popularity in the United States since the late 1800s. Each year, they release a list of the top 10 most popular dog breeds based on registration statistics. This means that the ranking is based on the number of dogs registered with the AKC each year, rather than overall ownership numbers.
This methodology has its limitations as it only includes purebred dogs that are registered with the AKC, leaving out mixed-breed and unregistered dogs. However, it still provides valuable insights into the preferences of American dog owners and trends in dog ownership and breeding.
In recent years, the AKC has also started tracking the popularity of designer breeds, such as Labradoodles and Goldendoodles, which are a mix of two purebred breeds. This reflects the growing trend of designer breeds in America and their increasing presence in households across the country.
It's important to keep in mind that popularity does not necessarily equate to quality or suitability as a pet. The AKC's popularity list can also be influenced by media attention, celebrity endorsements, and popular culture references to certain breeds. For example, movies featuring a particular breed or celebrity ownership can significantly impact its ranking on the list.
It's also worth noting that the rankings on the list can vary from year to year, as some breeds gain or lose popularity due to various factors. This could be due to changes in lifestyle trends, breed-specific health concerns, or even the influence of social media. So, while a breed may be popular one year, it could drop in ranking the next.
As a French Bulldog owner, you may be proud to see your furry companion high on the popularity list, but it's essential to remember that popularity does not determine a breed's worth or suitability as a pet. Every breed has its unique characteristics and quirks, and what matters most is finding the right fit for your lifestyle and preferences.
America's Most Popular Dog Breed: Labrador Retrievers
Well, as an expert on these lovable canines, I am here to share the secrets behind their consistent reign and why they make such a beloved breed.
The American Kennel Club (AKC) keeps annual records of dog registrations, and for the past 28 years, Labradors have consistently topped the list. This is no surprise to those who know and love these dogs. With their friendly and outgoing personalities, Labs are known for being great companions for people of all ages. Whether they are snuggling on the couch or playing fetch in the backyard, Labs are always eager to please and bring joy to their owners' lives.
But what sets them apart from other breeds? First and foremost, Labradors were originally bred as hunting dogs, specifically to retrieve game for hunters. This instinctual quality has made them excellent retrievers and has also contributed to their popularity as loyal and hardworking service dogs.
Another factor that makes Labs so beloved is their intelligence and trainability. They are quick learners and excel at various tasks and activities such as obedience training, agility courses, and even search and rescue missions. This makes them a popular choice for families looking for a versatile and trainable companion.
Of course, we can't talk about Labs without mentioning their high energy level. These dogs thrive on physical activity and require plenty of exercise to keep them happy and healthy. But don't worry, they also love to relax and cuddle with their owners after a long day of play.
One of the most appealing traits of Labrador Retrievers is their low-maintenance grooming needs. With their short, dense coats, they only require occasional brushing to keep them looking sharp. However, Labs do have a love for water and their webbed paws make them excellent swimmers, so be prepared for a wet dog after a day at the lake.
While Labs are generally healthy dogs, like all breeds, they are susceptible to certain health issues. The most common being hip dysplasia and obesity. As responsible dog owners, it is important to keep an eye on your Lab's weight and provide them with proper exercise and nutrition to ensure a long and healthy life.
Exploring Other Top Breeds on the AKC's List
For 30 years in a row, Labrador Retrievers have been crowned as America's most popular dog breed, according to the American Kennel Club (AKC). But what about other breeds that have consistently made it to the top of the list? Let's take a closer look at some of these beloved breeds and what makes them so popular among dog owners.
French Bulldogs
In recent years, French Bulldogs have risen in popularity and have now taken the second spot on the AKC's list. Known for their affectionate and playful personalities, these adorable pups have captured the hearts of many. They make great apartment dogs due to their small size and low exercise needs, making them a great choice for city dwellers. French Bulldogs also have a unique appearance with their bat-like ears and smushed faces, adding to their appeal.
German Shepherds
German Shepherds are known for their intelligence, loyalty, and versatility. These qualities make them a popular choice for military and police work. However, they also make great family pets with proper socialization and training. Their high energy levels and need for mental stimulation make them ideal for active families who are looking for a companion to join them on outdoor adventures.
Golden Retrievers
Golden Retrievers have consistently ranked in the top 10 of the AKC's list. These friendly and outgoing dogs are known for their gentle nature and love for people. They make excellent family pets and are often used as therapy dogs due to their calm demeanor. Golden Retrievers also excel in activities such as agility, obedience, and hunting.
Bulldogs
Bulldogs may have a tough exterior, but they are actually known for being sweet and loving companions. These low-energy dogs are content with lounging around with their owners and make great apartment dogs. Bulldogs are also known for their unique and endearing snorts, grunts, and snores, adding to their charm.
Beagles
Beagles are beloved for their friendly and curious personalities. These small hounds were originally bred for hunting and have a strong sense of smell. They make great family pets but do require regular exercise to keep them happy and healthy.
The Rise of Smaller Breeds in Popularity
French Bulldogs are everywhere these days, and it's not hard to see why. With their adorable wrinkled faces, perky ears, and playful personalities, it's no wonder they've become one of the most popular dog breeds in America. But what exactly is behind this rise in popularity? As an expert on dog breeds and their trends, I'm here to give you the inside scoop on why Frenchies and other smaller breeds are stealing hearts across the nation.
The Practicality of Urban Living
In today's fast-paced world, more and more people are choosing to live in urban areas where space is limited. This makes larger breeds impractical for many potential dog owners. Smaller breeds, on the other hand, require less space and can easily adapt to apartment living. French Bulldogs, with their compact size and low exercise needs, are perfect for city dwellers who don't have a backyard or a lot of free time for long walks.
The Influence of Social Media and Celebrity Culture
We can't deny the impact of social media and celebrity culture on our lives. And when it comes to dog breeds, French Bulldogs seem to be a favorite among influencers and celebrities. From famous Instagram accounts dedicated to their Frenchie's daily adventures to celebrities like Lady Gaga and Hugh Jackman who proudly show off their furry companions, it's no surprise that people are drawn to these fashionable and photogenic dogs.
Affordability and Ease of Care
Let's face it; owning a dog can be expensive. And with the rising cost of living, many people are looking for more affordable options when it comes to pet ownership. Smaller breeds, like French Bulldogs, tend to have lower costs for food, grooming, and medical care compared to larger breeds. They also require less exercise and are easier to handle, making them an ideal choice for busy lifestyles.
The Numbers Don't Lie
According to the AKC, French Bulldogs have been steadily climbing up the ranks and now hold the number two spot as America's most popular dog breed. Other small breeds, such as the Yorkshire Terrier and Cavalier King Charles Spaniel, have also seen a surge in popularity. This shift is reflected in pop culture as well, with small dogs often taking center stage in movies and TV shows as lovable and entertaining characters.
Considering Factors Beyond Popularity When Choosing a Dog Breed
French Bulldogs, or "Frenchies," have undoubtedly captured the hearts of many dog lovers with their adorable looks and affectionate personalities. It's no surprise that they are currently one of the most popular breeds in America, ranking fourth in the American Kennel Club's list of most popular breeds in 2020. However, as an expert on dog breeds, I believe that popularity should not be the sole factor when choosing a dog breed. As a proud owner of a French Bulldog myself, I understand the importance of considering other factors beyond popularity. In this guide, I'll explain why factors such as temperament, size, energy level, and grooming needs should also be taken into account when selecting a dog breed, especially for French Bulldog owners.
Temperament Matters
While French Bulldogs are known for their loving and playful nature, each dog breed has its unique temperament. It's crucial to research and understand the specific traits of a breed before making a decision. For example, Frenchies can be prone to separation anxiety and may not do well if left alone for long periods. They are also known to have health issues due to their short snouts and may require extra care and attention. Therefore, it's essential to choose a breed that aligns with your lifestyle and preferences to ensure a happy and healthy relationship between you and your furry companion.
Size and Living Situation
Another factor to consider is whether the breed is suitable for your living situation. While French Bulldogs may be small and compact, they still require daily exercise and playtime. Breeds with high energy levels may not do well in small living spaces, while more laid-back breeds may be better suited for city living. It's also essential to consider if your living situation can accommodate the size of the breed. For example, Frenchies are known to do well in apartments, but larger breeds may require more space and a backyard to roam.
Grooming Needs
Grooming needs should also be taken into consideration when choosing a dog breed. Some breeds, like French Bulldogs, have minimal grooming needs, while others require regular brushing and grooming. This can also impact the cost of owning a dog in terms of grooming expenses. As a Frenchie owner, I can attest to their minimal grooming needs, which makes it easier for busy pet owners to maintain their coat and keep them looking their best.
Potential Issues with Overbreeding and Health Concerns in Popular Breeds
French Bulldogs, with their signature bat-like ears and affectionate nature, have become one of the most popular dog breeds in recent years. However, behind their cute and cuddly appearance lies a concerning reality – the potential problems of overbreeding.
As an expert on the topic, I've seen firsthand the consequences of prioritizing physical appearance over health in popular dog breeds. French Bulldogs, like many other popular breeds, are often bred for their desirable physical features rather than for their overall health. This has led to a rise in respiratory problems, joint disorders, and skin conditions in these lovable pets.
But it's not just physical health that is affected by overbreeding. Behavioral issues can also arise when breeding is not done responsibly. French Bulldogs, for example, are known for their stubbornness and can develop aggression or anxiety if not properly trained and socialized. This can be especially problematic for owners who are not prepared for these potential challenges.
In addition to these concerns, overbreeding also increases the risk of genetic defects and diseases being passed down through generations of popular breeds. This is particularly alarming when breeders prioritize physical appearance over conducting genetic health screenings. While many breeders may claim to have "healthy" dogs, it's important for owners to do their own research and ask for proof of health screenings before purchasing a puppy.
The effects of overbreeding don't just impact individual dogs, but also contribute to the larger issue of pet overpopulation. When a particular breed becomes popular, there is an increase in demand for puppies which leads to more breeding. This can result in overcrowded shelters and the heartbreaking euthanasia of unwanted or abandoned dogs.
So what can we do as responsible dog owners? Firstly, it's important to educate ourselves on the potential issues with overbreeding and make informed decisions when choosing a breed. Responsible breeders should prioritize the health and well-being of their dogs over profit and conduct thorough health screenings before breeding. Adopting from shelters and rescue organizations is also a great way to combat pet overpopulation and give a loving home to a dog in need.
As French Bulldog owners, it's our responsibility to ensure the health and well-being of our beloved pets. This includes choosing a responsible breeder or adopting from a shelter, providing proper training and socialization, and being aware of any potential health concerns in our chosen breed.
Also Read: Do French Bulldogs Have Pet Dander
Conclusion
In conclusion, the question of America's most popular dog breed is a highly debated and subjective one.
While some may argue for the loyal Labrador Retriever or the playful Golden Retriever, others may make a case for the energetic German Shepherd or the adorable French Bulldog. Ultimately, it all comes down to personal preference and lifestyle.
However, one thing is for sure – dogs hold a special place in our hearts and continue to be beloved companions across the country.