Do you ever feel like your pup is never full? No matter how much food you give them, they always seem to be looking for more.
You may have asked yourself, "Why are dogs so greedy?"
Well, there's a scientific explanation for why our furry friends seem to never be satisfied.
In this blog post, we'll explore the reasons why dogs are so hungry all the time.
We'll look at both physiological needs and behavioral issues that can contribute to their insatiable appetite.
So if you've been wondering why your pup is always asking for more food, read on.
What is Greed? Defining Greed and Its Relationship to Dogs
Greed is a powerful emotion that can affect us all, even our beloved pets.
Defined as an excessive desire for more than one needs or deserves, greed can come in many forms, from hoarding to taking advantage of others.
Dogs are no exception and may display behaviors such as stealing food or begging for treats.
They may also become possessive over toys and other items, guarding them jealously like a dragon with its treasure.
Greed can be a problem if it leads to aggression or other unwanted behaviors, but it can also be managed with proper training and socialization.
Understanding why dogs are greedy helps us better manage the behavior and ensure our pets are happy and healthy.
For instance, if they feel lonely or bored, they may act out by becoming overly hungry in order to gain attention.
Greed is like a hungry monster lurking inside us all—one that can be unleashed if we let it.
Fortunately, we can tame this beast within our furry friends so everyone lives happily ever after.
Natural Instincts
Dogs are known for their natural instincts, but did you know that these instincts can also contribute to greed? Greed is a natural behaviour in dogs, and understanding the reasons behind it will help us better comprehend our beloved furry friends.
Let's start with the ability to hoard.
This is an instinctive survival technique that dogs have inherited from their wild ancestors.
By hoarding food and supplies, they can ensure they have enough resources in case of an emergency.
Additionally, this natural desire for dominance can manifest itself as greed, as it helps them establish themselves as the alpha of their pack or household.
Pica is another instinct that can lead to dog overeating.
When a dog eats non-food items such as rocks, dirt, or paper, it is pica; it's similar to a dog's version of coin collecting. Lastly, certain breeds of dogs are more prone to greed than others due to their genetic makeup.
Labrador Retrievers are known for their love of food and treats and may be more likely to display greedy behavior than other breeds.
Understanding how natural instincts contribute to dog overeating is the first step towards developing a strong relationship with your canine companion.
Greed can be seen as a negative trait, but with patience and knowledge it can be managed.
Learned Behaviors
It's no secret that owners have a powerful influence on their dog's behavior, and this includes greedy behavior.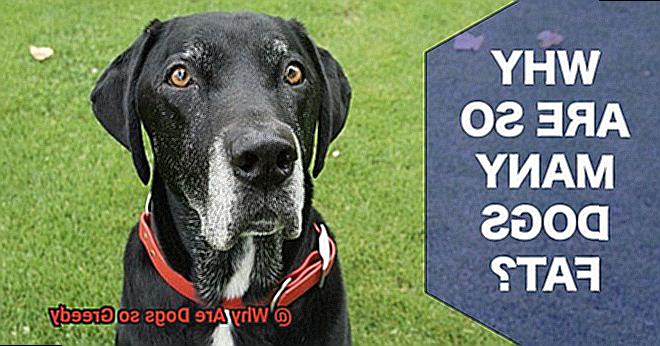 Dogs are highly impressionable, and the environment in which they are raised can be a major factor in how they act around food.
Owners should be mindful of how they interact with their pup when it comes to food, as certain behaviors can be interpreted as permission to be greedy.
To help minimize greediness, treats and table scraps should be used sparingly.
Positive reinforcement such as verbal praise and physical contact can also help reduce this type of behavior.
Establishing structure and rules for when food is allowed is also important for curbing hunger-related issues.
Finally, owners should make sure their pup gets plenty of exercise and mental stimulation to avoid boredom-related greediness.
Exercise is like a magic wand for dogs; it keeps them focused and makes them more able to resist temptation.
Diet
It's essential to ensure that your pup is getting the right nutrition for optimal health and happiness.
But did you know that diet can also affect your dog's level of greediness?
A balanced diet is key for a healthy pup.
Dogs must have a balanced diet that is high in protein, fats, carbohydrates, vitamins and minerals.
When they don't get enough of the right nutrients, they may become hungrier than normal and more likely to beg for food or even steal food from other establishments as a result.
Unfortunately, some dogs may even develop pica, which is the compulsive ingestion of non-food items such as dirt or rocks.
This could be due to a nutritional deficiency or boredom.
It's important to make sure they are not eating any food that could be toxic to them because doing so could have serious consequences on their health.
To keep your pup feeling satisfied and content, feed them at regular intervals throughout the day with plenty of fresh water available.
Exercise
Exercise is a powerful tool when it comes to reducing greediness in dogs.
When they don't get enough physical activity, they are more likely to search for items that will satisfy their needs.
Regular exercise helps to reduce stress and anxiety, which can lead to excessive appetite.
It also helps keep their weight in check and prevent obesity and other health issues associated with being overweight.
Plus, exercise provides an opportunity for them to explore new places and interact with their environment, which can help reduce boredom and restlessness that can lead to an insatiable appetite.
Training Techniques
Training your pup to reduce their greediness can be a challenge, but with the right techniques, it is possible. Here are four common training methods that can help you and your furry friend manage their appetite.
Positive reinforcement
Positive reinforcement is a great way to start.
This involves giving rewards such as treats, toys, or verbal praise when the dog displays desirable behaviors.
This reinforces the routine and encourages the dog to repeat it in the future.
Redirection
Redirection is another helpful tool, which involves distracting the pup from an undesired object or activity and onto something else that is more acceptable.
Desensitization
Desensitization is also an effective technique; this involves gradually exposing the pup to an object or activity that causes them to become overly excited or greedy and teaching them how to remain calm and relaxed around it.
Setting limits
Lastly, setting limits is key in teaching your pup what behaviors are acceptable and what behaviors are not.
Through positive reinforcement techniques such as rewards or verbal praise when they exhibit desired behaviors, and negative reinforcement techniques such as scolding or ignoring when they exhibit undesired behaviors, you can establish clear boundaries for your pup.
These four steps can be used together or separately depending on your pup's specific needs and preferences.
Pica Syndrome
Exploring How Pica Syndrome Can Lead to Excessive Greed
Pica Syndrome is a complex condition that can lead to excessive and dangerous overeating in dogs.
It's caused by an imbalance of hormones, nutritional deficiencies, or psychological issues, and can result in the dog consuming non-food items such as rocks, dirt, paper, or fabric.
This behaviour can be both troubling and risky for the dog.
Fortunately, there are ways to help dogs with Pica Syndrome learn appropriate behaviour.
Treatment involves investigating the root cause and providing behavioural modification therapy to help them manage their excessive appetite.
This process is not easy but it can be successful if done correctly.
It's like teaching a dog how to ride a bike – with patience and understanding they'll eventually get it.
Health Conditions
Investigating How Certain Health Conditions Can Make Dogs More Prone to Being Greedy
It's no secret that dogs have an insatiable appetite for food, but certain health conditions can make them even more prone to being greedy.
Pica, nutritional deficiencies, stress or anxiety, and boredom can all contribute to overeating and a tendency towards being overstuffed.
Pica is an unusual disorder in which dogs compulsively consume non-food items such as rocks or dirt.
Dogs with this condition are likely to try and consume anything they can get their paws on.
Nutritional deficiencies can also leave dogs ravenous and seeking out unhealthy food sources.
Stress or anxiety can cause dogs to become overly fixated on food and be more likely to overindulge.
Boredom can lead to excessive hunger and a desire for something exciting to munch on, even if it isn't the best option for them.
It's important for pet owners to be aware of these conditions so they can discourage their furry friends from becoming too devoted to food.
To keep your pup healthy and well-fed without overindulging, it's essential to provide them with a balanced diet and plenty of exercise.
Think of it as a tug-of-war game: give your dog just enough so they're content without going overboard.
Conclusion
Dogs can be incredibly greedy, but why? Greed in pups can stem from natural instincts, learned habits, poor dieting and even health issues.
Fortunately, owners can help their pup overcome this insatiable appetite. Positive reinforcement, setting limits, exercise and desensitization are all great tools to reduce a doggie's greed.