Welcome to our blog post where we delve into the captivating world of French Bulldogs and explore the burning question that's on every Frenchie lover's mind: Are Frenchies pure bred?
These adorable bat-eared buddies have stolen our hearts with their quirky personalities and petite stature, but there's an ongoing debate surrounding their lineage. Is there some sneaky genetic mix-up at play or are Frenchies the real deal?
Whether you're a proud Frenchie owner or simply fascinated by canine genetics, you won't want to miss this paw-sitively captivating exploration.
The American Kennel Club (AKC) and French Bulldogs
But when it comes to determining whether a Frenchie is a purebred, things can get a little confusing. In this article, we will delve into the role of the American Kennel Club (AKC) in relation to French Bulldogs, providing you with valuable insights that will help you navigate the world of purebred Frenchies.
The AKC and French Bulldogs:
The AKC, as the largest and most respected purebred dog registry in the United States, plays a pivotal role in maintaining breed standards for French Bulldogs. Let's take a closer look at their involvement:
Breed Standards: The AKC has established specific breed standards that outline the desired characteristics, appearance, and temperament of French Bulldogs. These standards serve as a guideline for breeders to produce dogs that epitomize the essence of the breed.
Registration: To be considered a purebred Frenchie, it must be registered with the AKC. Registration provides documentation that proves lineage, confirming that your Frenchie is indeed a true representative of the breed.
Inspections and Evaluations: The AKC conducts inspections and evaluations to ensure breeders are adhering to these standards and maintaining the integrity of the breed. This helps ensure that French Bulldogs bred by AKC-registered breeders meet the required criteria.
Resources and Support: The AKC provides valuable resources and support for French Bulldog owners. They offer information on responsible breeding practices, health issues specific to the breed, and training tips. This support helps owners provide the best possible care for their furry companions.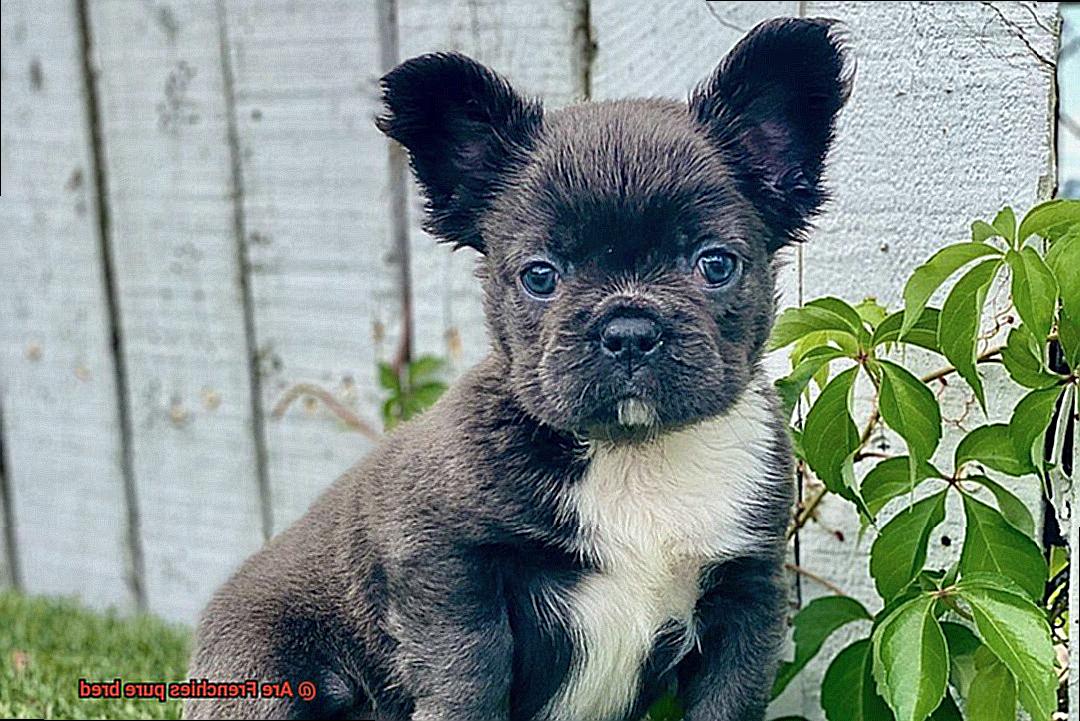 Determining Purebred Status:
While AKC registration is an indicator of a Frenchie's purebred status, there are additional factors to consider:
Lineage and Pedigree: A purebred Frenchie comes from a long line of ancestors of the same breed, with documented records proving their ancestry. Reputable breeders should be able to provide detailed information about the dog's lineage, including records of both the sire and dam.
Genetic Testing: DNA testing can provide further confirmation of a Frenchie's purity. Various companies offer DNA tests specifically designed for dogs, which can shed light on breed composition and ancestry.
Potential Variations from the Breed Standard
Are you the proud parent of a French Bulldog? Sacre bleu, they sure are a special breed. While the breed standard sets a paw-some guideline for our furry friends, it's important to remember that variations from these guidelines can occur. So, let's dive into the fascinating world of potential variations from the breed standard in French Bulldogs.
Size Matters (But Not Too Much):
French Bulldogs are known for their compact and muscular physique. According to the breed standard, they should be between 16-28 pounds and stand around 11-12 inches tall at the shoulder. Mais oui, size matters, but it's not uncommon to find Frenchies that are slightly smaller or larger than these measurements. Some may be more petite and muscular, while others may have a tad more height or length. These variations in size do not make them any less fabulous – it's just nature showing off its diverse palette.
Colorful Coats Beyond the Norm:
When it comes to coat colors, the breed standard recognizes brindle, fawn, and pied as the top dogs. But wait for it… there's a whole rainbow of possibilities out there. While these variations may not be considered "standard," they don't necessarily indicate a lack of breed purity. You may stumble upon Frenchies with coats that come in shades like black, blue, cream, or even rocking mesmerizing merle patterns. Just keep in mind that certain coat colors and patterns can be associated with health issues, so it's essential to have a responsible breeder who keeps their doggos' well-being in mind.
Temperament – It's All About That Paw-sonality:
French Bulldogs are renowned for their friendly and affectionate nature. However, just like humans, each Frenchie has their own paw-sonality. Some may be extroverted and social butterflies, while others might prefer being a bit more independent and reserved. These variations in temperament depend on a mix of genetics and individual upbringing. So, embrace your Frenchie's unique paw-sonality and work with it to bring out their best qualities.
Physical Features That Make Them "Frenchie-tastic":
French Bulldogs have some iconic physical features that make them instantly recognizable. From their bat ears to their short tails and smushed faces, they're a breed like no other. However, not all Frenchies will have these features in the same proportions. Some may have slightly longer or perky ears, a longer tail, or a less pronounced facial structure. It's all part of their charm and individuality.
Accidental and Intentional Crossbreeding of Frenchies
French Bulldogs, or Frenchies as they are affectionately called, are undoubtedly one of the most adorable and sought-after dog breeds. With their unmistakable bat-like ears and compact bodies, it's no wonder that people are smitten by them. However, the purity of the Frenchie breed has become a topic of debate among dog enthusiasts and breeders. In this article, we will explore the potential risks associated with accidental and intentional crossbreeding of French Bulldogs.
Accidental Crossbreeding: A Mixed Bag of Surprises
Accidental crossbreeding can occur when two French Bulldogs mate with another breed, resulting in mixed-breed puppies. This can happen when a Frenchie escapes or is let loose and mates with a different breed. It can also occur when breeders are not careful enough to prevent their French Bulldogs from mating with other breeds while in their care.
The risks associated with accidental crossbreeding are twofold. Firstly, the resulting mixed-breed puppies may not possess the desired traits or characteristics of a purebred Frenchie. This can be disappointing for owners who were expecting a certain look or temperament in their new furry companion. Secondly, accidental crossbreeding can dilute the genetics of the Frenchie breed, potentially leading to health issues down the line.
Intentional Crossbreeding: The Quest for Perfection
Intentional crossbreeding involves deliberately breeding French Bulldogs with other breeds to create hybrid dogs. Some breeders may do this to introduce new traits or enhance certain characteristics in the offspring. For example, crossing a Frenchie with a Pug can result in a mix known as a Frug, which may have a shorter muzzle and a more compact body.
However, intentional crossbreeding has sparked controversy within the dog breeding community. Some argue that it is necessary to maintain the health and genetic diversity of the Frenchie breed, while others believe that it compromises the integrity of the purebred status. It is important to note that intentional crossbreeding does not automatically result in healthier or superior dogs. While it can introduce new genetic diversity, it also carries the risk of inheriting health issues from both parent breeds.
Responsible Breeding: Preserving the Purity and Health of French Bulldogs
Whether accidental or intentional, crossbreeding poses potential risks to the purity of the Frenchie breed. To ensure the purity of their French Bulldogs, owners and breeders should take certain precautions. Here are some key steps to consider:
Prevent Accidental Matings: Owners should be vigilant in preventing accidental matings by ensuring their Frenchies are properly supervised and securely contained. Spaying or neutering can also eliminate the risk of unplanned pregnancies.
Tips for Ensuring that Your Frenchie is Purebred
French Bulldogs, or Frenchies, are beloved companions known for their unique appearance and friendly nature. However, it's important to ensure that your Frenchie is a purebred dog to ensure you're getting all the characteristics and traits associated with the breed. In this article, we will provide you with tips for ensuring that your Frenchie is purebred.
Research Reputable Breeders:
Start your search by finding reputable breeders who have a strong reputation for breeding purebred French Bulldogs. Look for breeders who are registered with recognized kennel clubs like the AKC or UKC. These breeders will have proper documentation and pedigree records to prove the lineage of their dogs.
Request Documentation:
When purchasing a Frenchie, ask the breeder for documentation such as registration papers from a reputable kennel club. These papers will confirm that your Frenchie comes from a long line of purebred dogs. Ensure that the paperwork matches the dog you are considering purchasing.
Verify the Breeder's Credentials:
Take the time to research the breeder's credentials and reputation. Look for reviews or testimonials from previous buyers to ensure they have a good track record of producing purebred French Bulldogs. Reputable breeders will also be affiliated with kennel clubs or organizations related to French Bulldogs.
Examine Physical Characteristics:
While not definitive, examining certain physical characteristics can give you an indication of whether your Frenchie is purebred or not. Look for breed-specific traits such as a short, stocky body, bat-like ears, a flat face, and a unique coat color pattern. Any significant deviations from these traits may indicate that the dog is not purebred.
Seek Professional Help:
If you have doubts about your Frenchie's purity, consider seeking professional assistance. Veterinarians or breed specialists can perform DNA tests to determine the breed composition of your dog. This will provide concrete evidence regarding your Frenchie's lineage.
DNA Testing to Confirm the Purity of a Frenchie
We all know that French Bulldogs hold a special place in our hearts, but have you ever wondered about your furry friend's true ancestry? Fear not, as the wonders of modern science have brought us DNA testing, a paw-some tool to confirm the purity of your precious Frenchie.
In this blog post, we'll delve into the fascinating world of DNA testing and how it can provide you with peace of mind and a deeper understanding of your four-legged companion.
The Science Behind DNA Testing:
DNA testing is a reliable and accurate method that scrutinizes the genetic blueprint of your Frenchie. By comparing their DNA with a database of known breed profiles, specialized laboratories can identify specific genetic markers associated with French Bulldogs. This process unveils the secrets hidden within their genes, giving you valuable insights into their breed composition.
The Process Simplified:
DNA testing involves collecting a sample of your Frenchie's DNA, which can be easily obtained through a cheek swab or blood sample. Once collected, the sample is sent to a reputable laboratory equipped with advanced technology and extensive breed databases for analysis. Sit back, relax, and let the experts do their magic.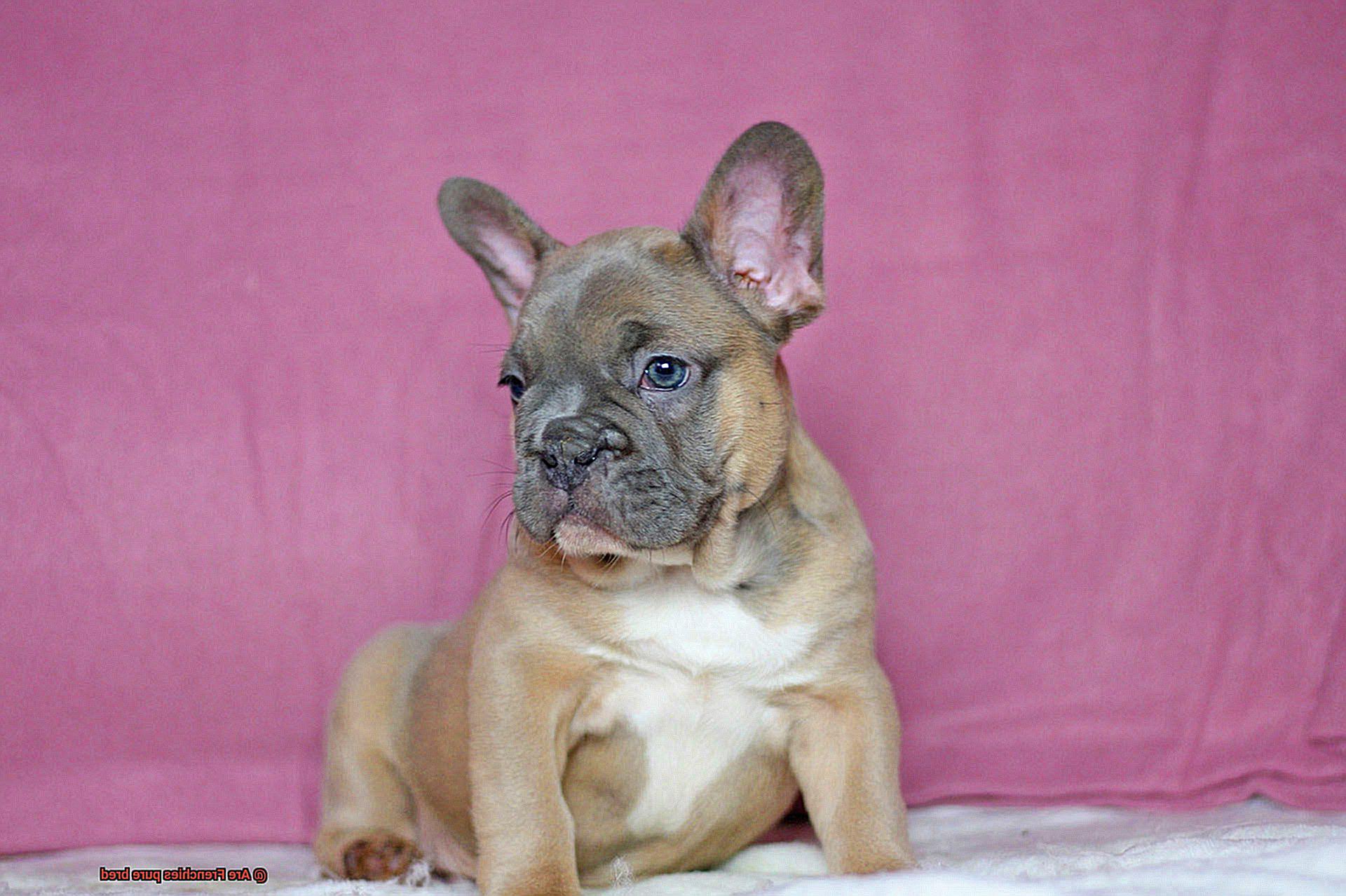 Reliable Results, Tail-Wagging Certainty:
While DNA testing isn't infallible, it offers accurate results when performed by reputable companies. These companies utilize sophisticated technology to detect even the smallest traces of mixed breed ancestry. However, keep in mind that distant generation ancestry may not always be detected.
Health Matters:
Beyond confirming your Frenchie's purity, DNA testing can also provide crucial health information. Certain genetic conditions or potential health issues commonly found in French Bulldogs can be identified through DNA analysis. Armed with this knowledge, you can take proactive steps to ensure your Frenchie lives a long, healthy, and happy life.
Breeder Benefits:
For breeders passionate about preserving the integrity of the French Bulldog breed, DNA testing offers an invaluable tool. By confirming the purity of their breeding stock, breeders can maintain the high standards and distinctive characteristics that make Frenchies so special.
Health, Temperament, and Well-Being as Primary Focus
Are you curious about how to determine if your Frenchie is a purebred? Well, look no further. In this section, we're going to dive into the importance of health, temperament, and overall well-being when it comes to evaluating the purity of your beloved fur baby.
Why Health Matters
When it comes to Frenchies, it's crucial to prioritize their health. Purebred French Bulldogs should be free from any genetic disorders or health issues commonly associated with the breed. To ensure this, responsible breeders conduct thorough health screenings and tests on their breeding dogs.
Some of the common health problems seen in French Bulldogs include respiratory issues, allergies, hip dysplasia, and skin infections. While these conditions can occur in any dog, reputable breeders take steps to minimize these risks through careful breeding practices and genetic testing.
The Importance of Temperament
Temperament is another vital factor to consider when evaluating the purity of your Frenchie. True French Bulldogs are known for their friendly, affectionate, and sociable nature. They are generally good with children and other animals, making them a popular choice for families.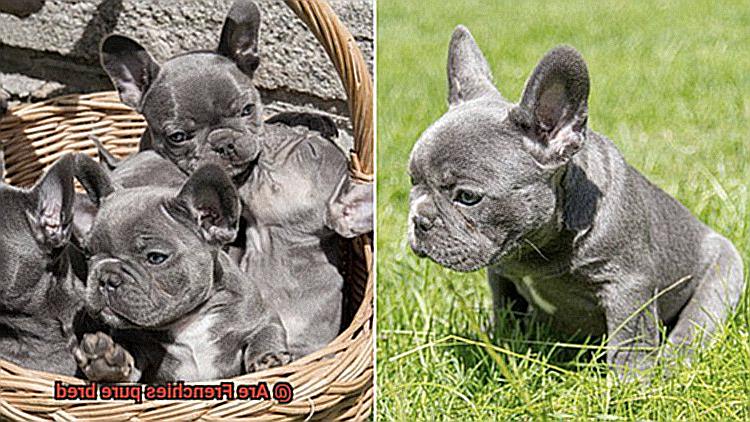 If your Frenchie exhibits aggressive or unpredictable behavior, it may be a sign that it is not a purebred or has been poorly bred. A purebred Frenchie should have a happy and balanced demeanor, showing no signs of anxiety, fearfulness, or aggression.
Well-Being: More Than Just Physical Health
Well-being encompasses not only physical health but also mental and emotional well-being. A purebred Frenchie should have a happy and balanced demeanor, enjoying interactions with their human companions.
To ensure the well-being of your Frenchie, it is essential to provide proper care, nutrition, and socialization. Regular veterinary check-ups, a balanced diet, exercise, and mental stimulation are all crucial for maintaining their overall well-being.
Finding the Right Breeder
Now that you know the importance of health, temperament, and well-being, it's time to find the right breeder. Reputable breeders prioritize these factors in their breeding programs and can provide documentation of health tests and certifications.
Additionally, doing thorough research before purchasing or adopting a Frenchie is essential. Seek out breeders who prioritize health and well-being and are transparent about their breeding practices.
Common Characteristics and Traits of Frenchies
French Bulldogs, or Frenchies as they are affectionately called, are a remarkable breed known for their unique and endearing characteristics. In this article, we will explore the common traits that make Frenchies such beloved companions. So, grab a cup of coffee and let's dive into the world of French Bulldogs.
Friendly and Affectionate Nature:
Frenchies are known for their friendly and affectionate personalities. They thrive on human interaction and love being close to their owners. Their desire to cuddle and snuggle often earns them the nickname "lap dogs." Whether you're watching TV or reading a book, a Frenchie will gladly keep you company.
Social Butterflies:
French Bulldogs are social animals that get along well with children and other pets. They have an innate ability to bring people together and can be the life of the party. With their playful nature and comedic expressions, they are sure to bring joy and laughter to your home.
Adaptability:
Despite their small size, Frenchies are remarkably adaptable. They can thrive in various living situations, whether it's a cozy apartment or a larger home with a yard. As long as they receive the care, exercise, and attention they need, they can adjust well to different environments.
Playful and Mischievous Personalities:
French Bulldogs have an inherent curiosity and love to explore their surroundings. Their mischievous nature often leads them into hilarious situations. With their playful antics, they can brighten even the dullest of days.
Trainability:
While Frenchies can be stubborn at times, they are intelligent dogs that can be trained effectively using positive reinforcement techniques. Starting training early and being consistent will help them develop into well-behaved companions.
Low Grooming Needs:
Frenchies have short coats that require minimal grooming. This makes them perfect for individuals who prefer low-shedding breeds. However, it's important to keep their facial wrinkles clean and dry to prevent any skin issues.
Health Considerations:
French Bulldogs are prone to certain genetic health conditions, including brachycephalic syndrome due to their short noses. It is crucial for Frenchie owners to be aware of these conditions and provide appropriate care to ensure their overall well-being.
Conclusion:
French Bulldogs possess a charming combination of traits that make them one of the most beloved dog breeds. From their friendly and affectionate nature to their adaptability and mischievous personalities, Frenchies bring immense joy and love to their owners' lives. So, if you're looking for a loyal and entertaining companion, a Frenchie may be the perfect addition to your family.
Conclusion
In conclusion, it is clear that Frenchies are indeed pure bred.
Their distinct characteristics, such as their bat-like ears and compact bodies, are a testament to their breed purity. Additionally, reputable breeders carefully select and pair French Bulldogs with the goal of maintaining the breed's integrity.
The demand for these adorable canines has led to an increase in unethical breeding practices, resulting in mixed or non-purebred Frenchies being sold on the market. However, responsible pet owners and enthusiasts should always prioritize obtaining a Frenchie from a reputable source to ensure they are getting a true purebred specimen.
So, if you're considering adding a Frenchie to your family, make sure you do your research and choose wisely.