What causes a dry nose in English Bulldogs?
Do you have an English Bulldog with a dry, cracked nose? You're not alone. Numerous owners of English Bulldogs experience this issue with their pup. But what causes a dry nose in English Bulldogs?
Let's explore the potential causes and how to prevent them from happening again. From environmental factors to medical issues, there are many possibilities for your dog's dry nose.
Additionally, we'll discuss how to handle a dry nose if it occurs.
Keep reading to learn more about this common problem among English Bulldogs.
Causes of Nasal Hyperkeratosis in Bulldogs
Nasal Hyperkeratosis in Bulldogs is a common, yet uncomfortable condition that can be attributed to a variety of factors.
Genetics, climate, and diet all play a role in the onset of this disease.
For instance, some English Bulldogs may be more predisposed to Nasal Hyperkeratosis due to their breed. Additionally, Bulldogs living in dry climates are more likely to experience dry noses than those living in humid climates.
Furthermore, diet can also have an effect; Bulldogs on a high carbohydrate and low protein diet are more likely to suffer from dry noses than those on a balanced diet.
Symptoms of a Dry Nose in Bulldogs
Are you concerned about your Bulldog's dry nose? If so, it's likely that your pup is suffering from Nasal Hyperkeratosis.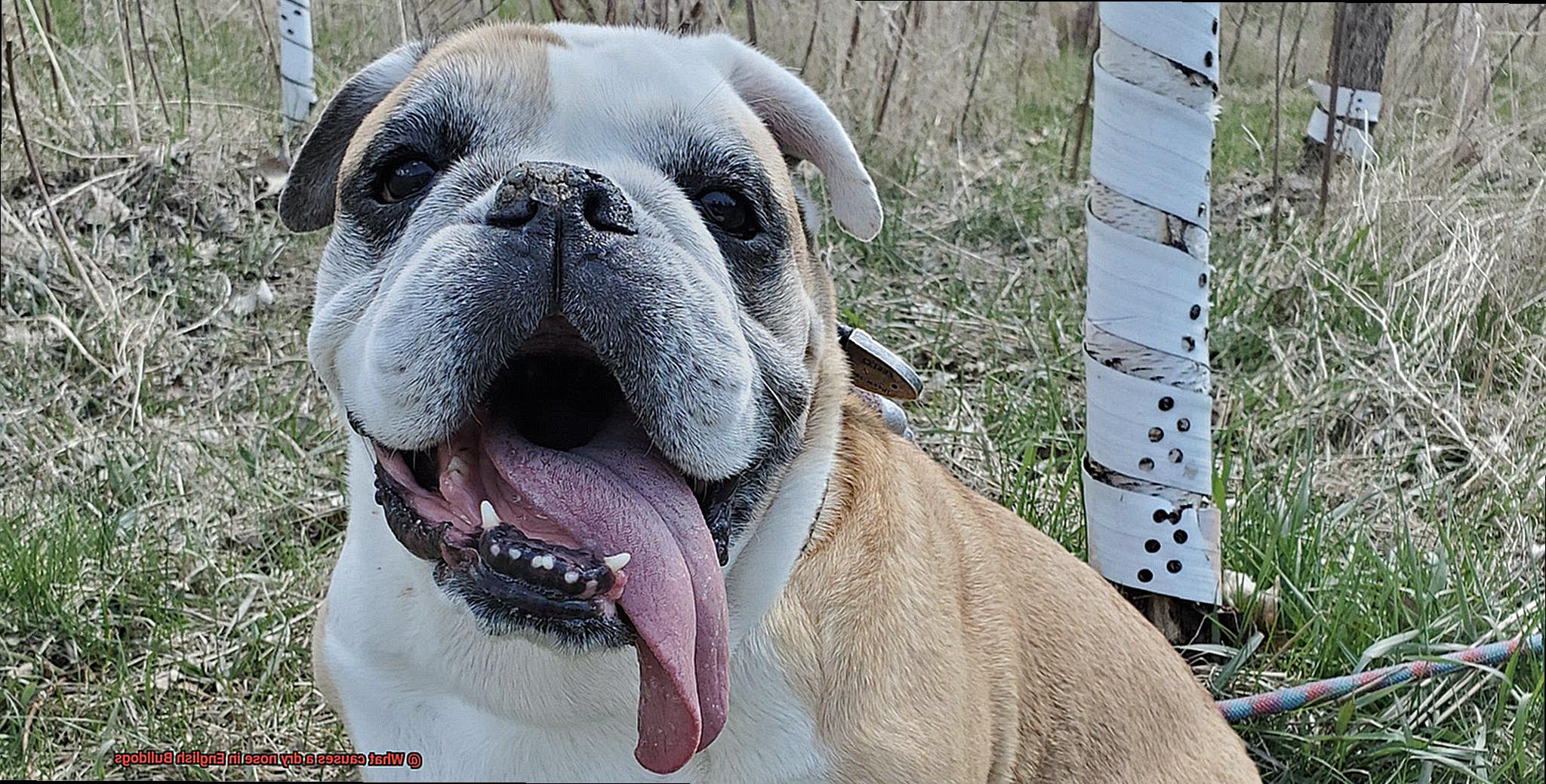 This condition can cause dry, cracked, or flaky skin on the nose and muzzle area and may even appear red or inflamed with an unpleasant odor.
In addition to a dry nose, Bulldogs may also experience difficulty breathing, sneezing or coughing, and excessive licking of their noses.
Left untreated, Nasal Hyperkeratosis can lead to more serious conditions such as infections or even cancer.
If you suspect your Bulldog has a dry nose as a result of Nasal Hyperkeratosis, it's important to seek help from your veterinarian right away.
They will be able to diagnose the illness and provide treatment options for your pup.
Diagnosing Bulldog Dry Noses
It's essential to take them to the vet for an accurate diagnosis. The vet will perform a physical examination of your pup's nose and take samples of any mucus present. Additionally, they may do blood tests to check for any infections or health issues that could be causing the dryness.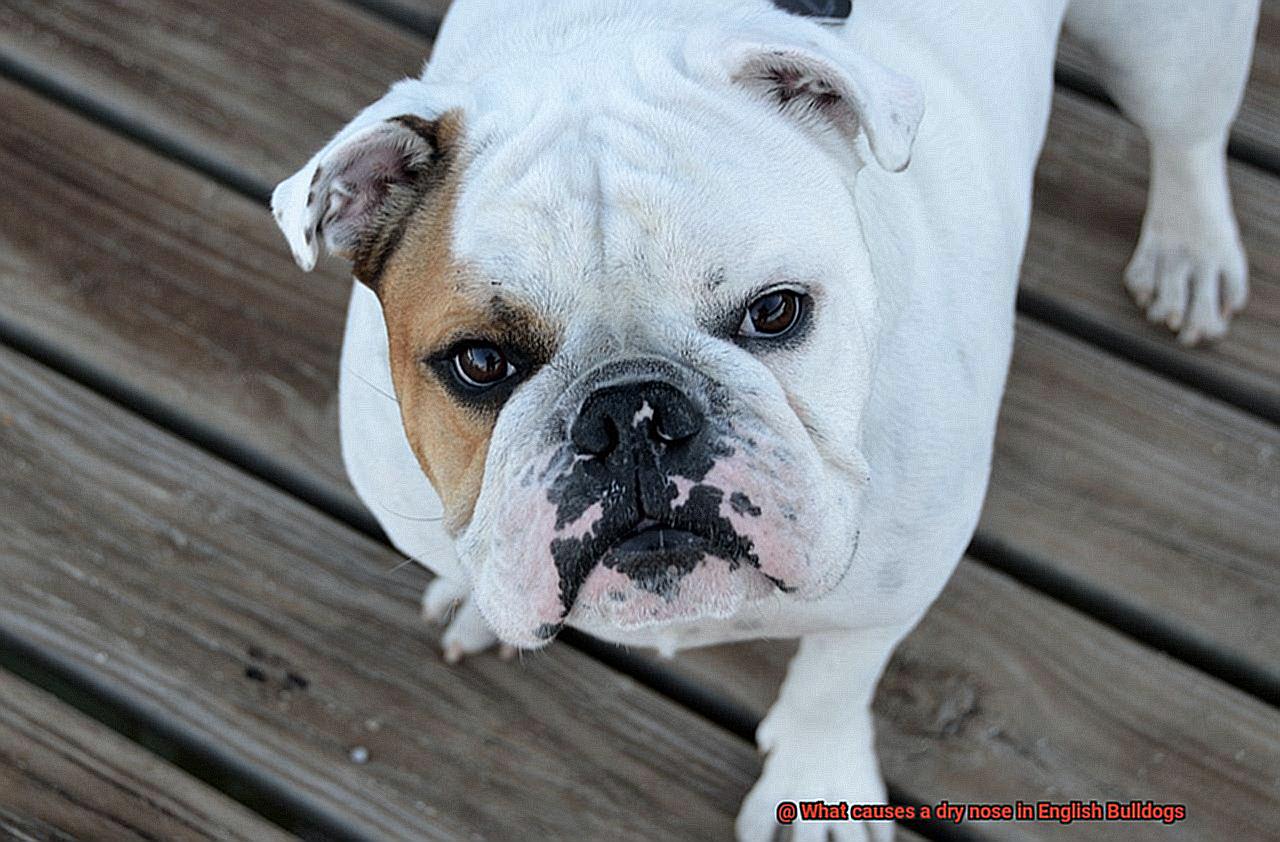 In some cases, x-rays and other imaging tests may be necessary to get a better view inside the nose and identify any problems.
To ensure that your bulldog receives the right treatment plan, it's vital to have a clear diagnosis.
Depending on what causes the dryness, the vet may prescribe medications, offer lifestyle advice, or suggest dietary changes.
Additionally, keeping your bulldog hydrated and protected can help keep their nose moisturized and healthy.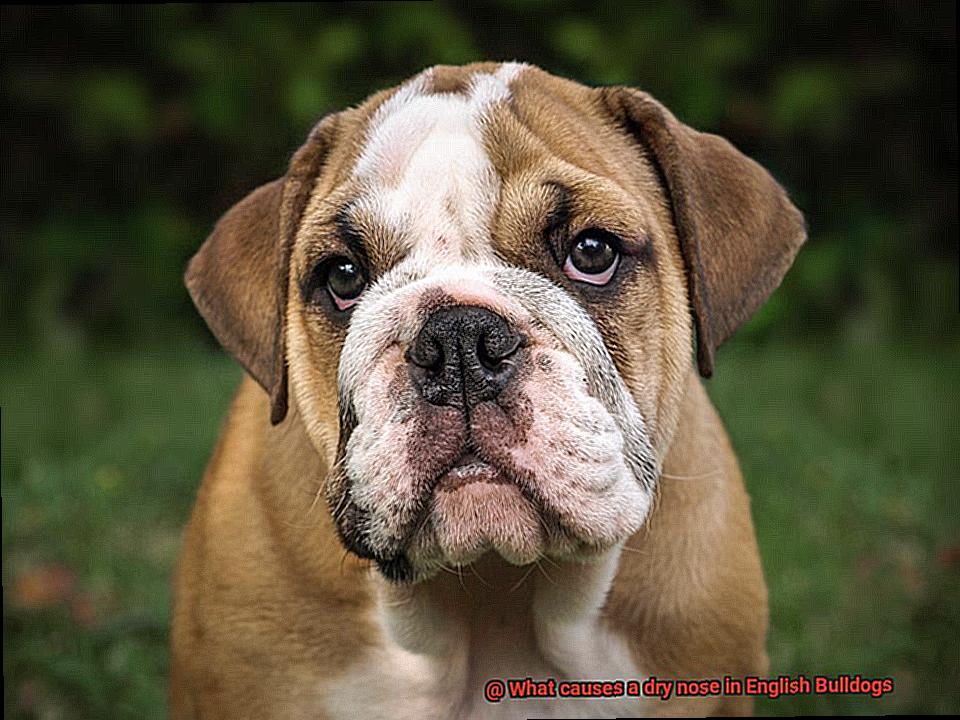 Don't delay if you're worried about your bulldog's dry nose. Get them to the hospital as soon as possible so they can get an accurate diagnosis and start on the right treatment plan.
Treating and Preventing Bulldog Dry Noses
Having a bulldog with a dry nose can be a worrying experience for owners. But don't worry, there are ways to both treat and prevent this condition!
The first step is to consult a veterinarian about the best course of action for your beloved bulldog. They may prescribe mupirocin, chlorhexidine, or gentamicin to help treat nasal hyperkeratosis.
At home, there are a few steps you can take to ensure your bulldog's nose stays moist and healthy. Regularly clean the area with a damp cloth and gentle cleanser. Keep the environment humidity levels between 40-50%. And provide plenty of shade and protection from extreme temperatures during hot days.
When to See a Vet for a Bulldog With a Dry Nose
Has your bulldog been suffering from a dry nose? If so, it might be time to take them to the vet. A dry nose can be caused by a variety of medical or environmental factors, and a professional opinion is essential in determining the cause. If your pup's dry nose persists for more than one week, you should seek help from a vet immediately.
It's also important to visit the doctor if your dog is exhibiting other symptoms such as sneezing, coughing, or fever. If they are showing signs of discomfort like excessive licking of their nose or pawing at their face, don't hesitate to book an appointment with the vet.
At the vet's office, you can expect tests such as blood work, skin scrapings, or an x-ray in order to diagnose any underlying medical issues that may be causing your pup's dry nose. Your vet may also prescribe drugs or suggest lifestyle changes that can alleviate the symptoms of a dry nose.
Diet and Nutrition for Bulldogs With a Dry Nose
Having a dry nose can be a source of discomfort for bulldogs, but with the right diet and nutrition, it doesn't have to be.
A balanced diet full of antioxidants, omega-3 fatty acids, and vitamin E can help reduce inflammation and improve overall skin health.
Fruits and vegetables are great sources of vitamins and minerals that can give your bulldog's skin an extra boost. Refined foods with high sugar content should be avoided in order to keep your pup's nose clean.
Supplements may also benefit your bulldog if their diet is lacking certain nutrients – talk to your vet about what supplements are best for them.
Natural Remedies for Dogs with Nasal Hyperkeratosis
Has your English Bulldog been suffering from Nasal Hyperkeratosis? This common disorder can be difficult to manage, but luckily there are some natural remedies that may be able to help!
Coconut oil is a great choice for soothing and reducing inflammation in the nose. Aloe vera gel will also keep the nose moist and reduce irritation. Vitamin E oil can soothe irritated skin and promote healing.
In addition to topical treatments, omega 3 fatty acids are beneficial for reducing inflammation and promoting healthy skin. Natural supplements like fish oil, turmeric, and probiotics can also be useful for treating a dry nose in English Bulldogs.
Regularly cleaning the dog's nose with a damp cloth is an easy way to keep it hydrated and prevent further irritation.
Also Read: Why Does My French Bulldog's Nose Dry?
Conclusion
Preventing dry noses in English Bulldogs is key. Reduce allergen exposure, raise humidity levels, provide shade and cover from extreme temperatures, and maintain a balanced diet.
Regularly vacuum with a damp cloth to keep the nose clean and reduce irritation.
If your Bulldog has a dry nose, get the right diagnosis and treatment quickly.