Most dogs dribble and drool. It usually comes with an area of being the dog owner. However, are the French bulldogs any distinct? Do they dribble and drool a lot? If so, can that be a hint of some health problem? Well, fret not. All your questions will be answered here. All you need to do is continue reading this guide.
Do French bulldogs drool?
To answer this in brief. Yes, French bulldogs drool, and often so after drinking or eating. Some will even drool excessive post-exercise, begin slobbering uncontrollably. But, a Frenchie dribbling, slobbering, and drooling excessively can be the sign of some bigger problems like a health problem or medical condition.
Is It Normal For French Bulldogs To Drool?
Well, firstly, do not fret if your Frenchie begins dribbling suddenly. It's natural, and French bulldogs are known for slobbering, drooling, and dribbling, which they do a lot!
Dogs often drool for several reasons. However, in most cases, it all boils down to their eating, followed by digestion.
Why Is Your French Bulldog Drooling More Than Normal?
Is your Frenchie drooling excessively? If so, then it can be due to various factors that may include the following:
Over-exertion

Tooth decay and mouth disease

Excitement & food

Motion sickness

Heatstroke

Anxiety and stress

Mouth injuries

Poisoning
What Cause My French Bulldog To Drool?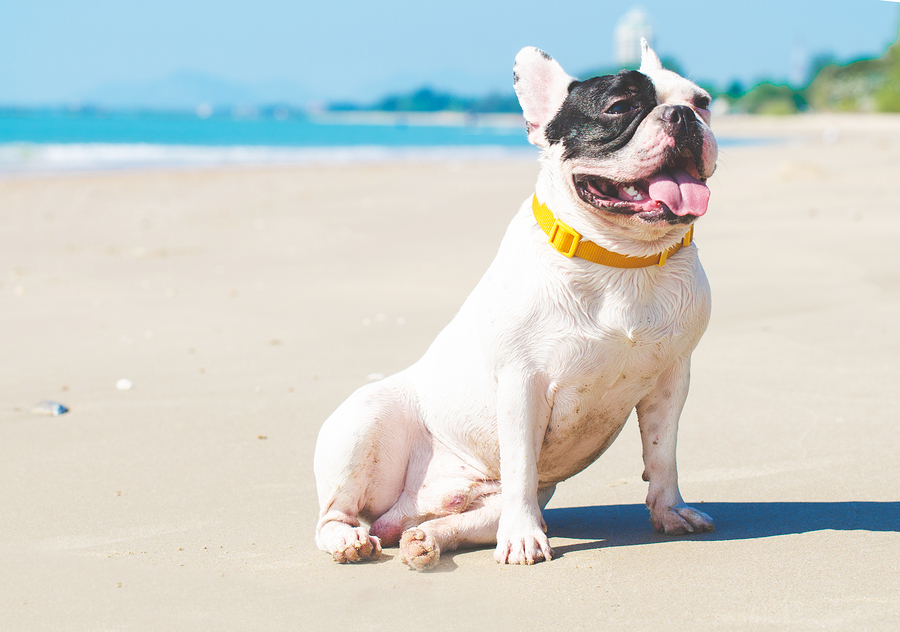 Let's now take a look at these causes in detail and take a closer look. 
This one is by large the most obvious reason why one's Frenchie drools. One would notice their dog doing this almost daily once after finishing the morning walk.  
Tooth decay and mouth disease
Just like most of us, French bulldogs as well are prone to gum and teeth problems.
Besides drooling a lot, one must also check for swollen and red gums, bad breath, receding gums, bleeding, those lumps in Frenchie's mouth, bloody dribble, not desiring their head and forehead to be touched, loose teeth.
All those symptoms are very much a sign of mouth disease. The mouth of the dog will operate overtime to attempt to medicate themselves by keeping that region wet with the dribble.
To assist them in preventing any mouth disease in French bulldog, ensuring that he's plenty of the chew toys, regular chewing, and a portion of good quality and healthy food.
One would have never really met the French bulldog who does not get excited. That excitement goes on to ramp up 10x once the food is right there on the program.
Imagine someone placing your most favorite food right in front of your eyes for a couple of hours. However, you are not allowed to consume it.
Do Frenchie Bulldogs drool? Indeed, and the puppy will clear the bowl in mere seconds. They get extremely excited about food!
Those 10 seconds it takes people to fill the bowl up with the dog food perchance seems as if the same number of times for them – so one may understand why Frenchie bulldogs drool so much when they are presented with their food. It sure seems like life to them! But it is nothing to worry about in such a case.
Not every dog likes to travel in cars. However, it is virtually imperative for most dog owners that they drive at several points with them in a car. 
Most dog breeds may suffer from that motion sickness. However, it's more prevalent with puppies that are not used to traveling on the road.
To further counter motion sickness drooling, one may take the below-mentioned steps:
Try to get them sitting forward, perhaps with the dog seatbelt

Limit with the quantity they eat before going out on a journey

Leave your windows open with a gap enough to get the air circulating in your car
The French bulldog does not know when they need to stop playing and running, and he'll do so until he's thoroughly exhausted and can not run anymore.
That's when the owners often need to calm them down and then take the Frenchie home once he starts overdoing it, which is again the major cause of the drooling.
Any dog who is stressed out can even drool a lot. In most cases, this fear and anxiety will come from the change in his loud noises, environment, or anything he is not expecting or used to.
If you happen to see any of the symptoms, get the dog into some relaxing corner at home, surround your dog with things that he understands and knows.
If excessive dribbling comes on fast, do the mouth inspection to ensure if there are any cuts.
Drooling might also be a hint that they've something stranded in their throat or mouth.
It is disgusting. However, younger Frenchies, in particular, aren't careful about things that go in their mouths. As it may look funny, this can guide to poisoning, & in turn, it will only mean they'll begin drooling a lot more.
Things you need to keep out of the reach of your Frenchies include:
Cleaning products

Plants

Cosmetics and makeup

Deceased animals

Drugs

Gardening toxins
How to stop My French Bulldog From Drooling
If you've gone through the possible symptoms and causes mentioned above, then most likely, drooling is not anything to bother about. It is more than apparent down to hunger, excitement, or heat (even anxiety)
Here is presenting with the top 3 tips to prevent your bulldog from drooling:
Provide them with drink or food

Get them to cool down with water or drink, or a dip

Discard any situation making them anxious and fearful
Conclusion
With plenty of causes of drooling, the treatment programs will vary. With that said, treating the fundamental cause may include removing growths, extracting teeth, cleaning teeth, treating GI problems, healing injuries, avoiding irritants, giving medications for nausea, or removing the foreign object, if any.